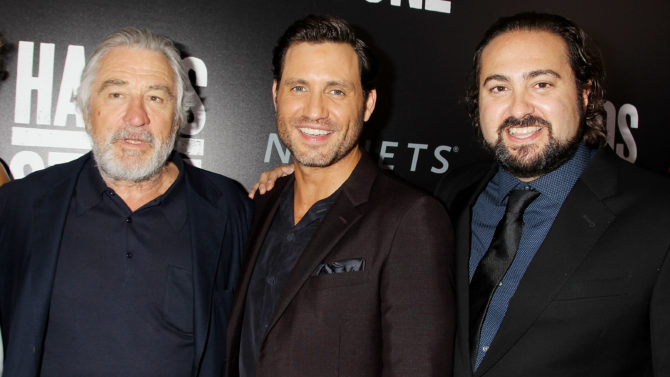 When director Jonathan Jakubowicz committed to making the film Hands of Stone, he never could've imagined just how big of a production it would end up being. Not only did it tell the story about one of the most famous boxers to ever live Roberto Duran, but it also showed that there are successful Latinos in the world whose stories deserve to be told on the big screen.
Jakubowicz spoke to Variety Latino recently in support of the recently released DVD/Blu-Ray about what it was like to work on this film alongside an all-star cast including Edgar Ramirez, Robert De Niro, Usher, and Ruben Blades.
"The film was gigantic, much bigger than I really dreamed to do," Jakubowicz told Variety Latino. "It had a superstar cast, more than 15 thousand extras, and the task to recreate three decades and four world championships that are very well known. The fights in the movie can be easily seen on youtube, especially the ones between Sugar Ray Leonard and Roberto Durán. To replicate them correctly was a huge challenge because you can compare them with the real thing. And these fights take place in some of the greatest stages of boxing: the Superdome and Madison Square Garden. It was an incredibly long experience, like a marathon, but here we are very proud of the work we were able to complete.
Jakubowicz worked with top-notch talent on the film including Venezuelan actor Ramirez, who portrayed Duran in the film, legendary actor De Niro, and singer/actor Blades. He recalls how the cast came together like it was yesterday.
"Ruben and I worked together in Secuestro Express," he said. "I knew him since then but being Panamanian and being a close friend of Duran, it made him a little nervous to do the movie. He said if Duran does not like it, it is going to come down to blows. Honestly, it was De Niro that ended up convincing Ruben to do the film. They met by chance at the Tribeca Film Festival. I was in New York at the time as well and I had met with De Niro the day before. De Niro asked Ruben about the film. De Niro calls me on the phone and tells me in front of Ruben 'I'm going to get a driver to Ruben so he can meet with you and you can finish convincing him to make the film.' At that point I knew he was already convinced when De Niro is putting that level of pressure is difficult to say no."
Looking back on his favorite moments working on the film, he recalls the moment that topped it all for him as a director.
"There was a moment when we were filming a scene in the corner of the ring between Edgar and De Niro. De Niro tells me, in secret, to put a camera to Edgar without Edgar knowing that we're filming him. De Niro does the whole scene and at the end, he says, "tu eres mi campeón" and Edgar basically comes in tears. This is one of the most beautiful moments of the film because it is rare that you see in a film a boxer holding back tears of emotion. Usually boxers are portrayed as tough guys at all times. But here we see him on the corner about to fight the last round in Montreal, and the guy is about to cry. A great moment that wasn't written and that De Niro created for us."