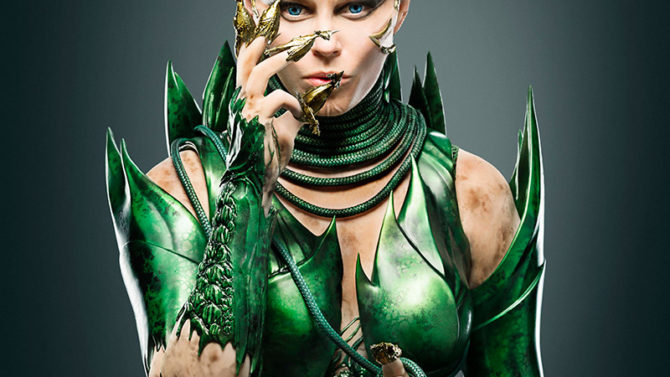 The first image of Elizabeth Banks as the iconic villainous Rita Repulsa in the upcoming Power Rangers film was released Tuesday.
"I've never played a villain before, let alone an alien warrior," Banks told People in an exclusive interview, adding that she's ready for "world domination – and being unpredictable as a character."
The actress appears in an ultra sleek green costume with an updated headgear and gold accents. "It's definitely a modern and edgy re-imagining of the original Rita Repulsa," Banks told People. "We wanted to give her a backstory that connects her to the new Rangers."
The new reboot is based on the classic '90s television show, which centers around five teenagers with superpowers. In order to fight off evildoers they morph into the Blue, Yellow, Black, Pink and Red Rangers. Their ultimate goal: to take down Repulsa, the evil humanoid alien trying to take over the world.
The film stars Dacre Montgomery as the Red Ranger, RJ Cyler as the Blue Ranger, Naomi Scott as the Pink Ranger, Becky G as the Yellow Ranger and Ludi Lin as the Black Ranger.
Power Rangers hits theaters March 24, 2017.