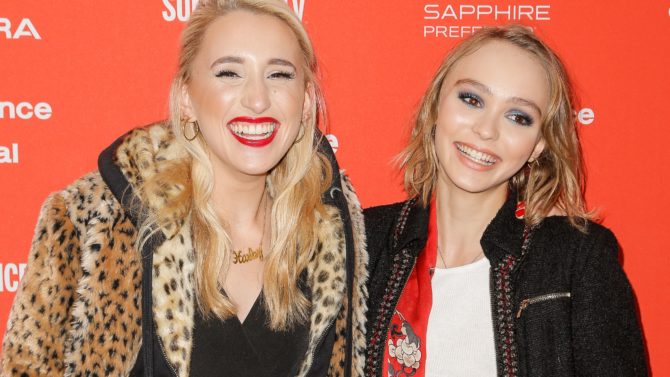 It's a family affair for Lily-Rose Depp in the trailer for her latest film, Yoga Hosers, co-starring dad Johnny Depp and mom Vanessa Paradis. In fact, director Kevin Smith also kept it in the family as well by casting his own daughter Harley Quinn Smith to co-star alongside Lily-Rose in the lead roles.
Viewers can expect the typical silliness that comes from most of Smith's productions when watching this PG-13 rated horror/comedy. The film follows two Canadian friends and yoga enthusiasts who team up with a legendary man-hunter to battle little Bratwurst nazis known as Bratzis. The besties, known as The Colleen's, use their favorite yoga moves to rid the world of these evil beings… all while avoiding becoming basic and keeping up with social media.
SEE ALSO Winona Ryder Stars in 'Stranger Things' Trailer for Netflix
"After we shot a scene, I would bring them over to watch their takes, and they would immediately see what they needed to do differently," Smith told The Hollywood Reporter. "Nobody wants to make sure that they look better and sound better more than 15-year-old girls."
This is the second film in Smith's Canadian-based horror trilogy, The True North Trilogy. The first was 2014's Tusk and the third will be Moose Jaws. Actors from Tusk will be making an appearance in this film in new roles, as it all take place in the same world.
Yoga Hosers, which made its debut during the Sundance Film Festival, will hit theaters on July 29th.
Here is the trailer: