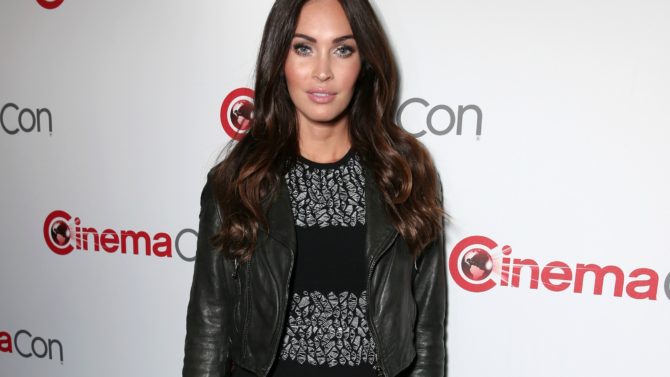 As Megan Fox prepares for the release of Teenage Mutant Ninja Turtles: Out of the Shadows, she's also preparing to be a mom for the third time and nursing a bronchial infection to boot. Fox returns to the big screen this Friday in the role of April O'Neil, friend and partner-in-good to Leonardo, Donatello, Michelangelo, and Raphael as they defend New York City.
"It's just bigger," Fox told Variety Latino about how the sequel compares to 2014's. Teenage Mutant Ninja Turtles. "There's a lot more action in it. I think it's definitely more kid-friendly than the first one. And it's definitely more true to the '90s cartoon, which I know a lot of people loved."
Fox is a longtime fan of the Turtle franchise and she admits it's their brotherly bond that she admires most about them. "When I was little I loved them because my older sister loved them and then it was such a deeply ingrained positive childhood experience," she explained.
"Maybe because my older sister was so much older, I didn't really have that kind of relationship with brothers or sisters. That family clan that they have and that they're all sort of outcasts together and support one another is just an interesting thing that maybe speaks to me on some level."This might be why Fox and her longtime partner Brian Austin Green decided to have their children grow up closer in age. They're parents to three-year-old Noah and two-year-old Bodhi. Although she's not saying the sex of their new baby just yet, she says she's comfortable being surrounded by males.
RELATED Final 'Teenage Mutant Ninja Turtles 2' Trailer Sees Shredder and Krang on the Attack
"I was surrounded by all guys when I was filming and so I say that I'm kind of like Wendy and The Lost Boys on the set with myself and the guys who play the Turtles. I'm comfortable doing that, that's what I do at home also. It's me and a bunch of boys, so I kind of like it. It gives me the chance to rule the roost and be captain of the ship which is always fun."
Even though boys dominate the Fox/Green household, the couple is raising their sons to have the utmost respect for women. "My sons will be feminists. I think so much of that comes from, first of all, their father. He is really respectful. He doesn't objectify women and he's not misogynistic or sexist at all. He's not like the leader of the feminist movement however, he's in support of it. He's a positive role model for them in that way because they'll never watch their father figure act in a way or speak in a way that is degrading towards women or that reflects poorly back on women especially back on me. That's what they'll model what it is to be a man after what they watch their father do."
Fox made a surprise return to Fox's New Girl during the season six finale in May leaving her character Regan's relationship with Nick Miller (Jake Johnson) as something the show will explore further. How much of Regan and Nick will we see next season?
"I'll be back for like half the season and we'll see what happens. I don't think anyone would love for Regan to take Nick away from Jess [Zooey Deschanel], and of course, I don't think that's how it will end. I don't know, I haven't seen it but I will be back and we'll see what happens with them."
She added, "What I like about [creator] Liz Meriwether is that she doesn't like to pit women against each other so I think she'll find a really creative way of exploring [the love triangle]. Like maybe it's Jess' inner conflict, 'he seems happy, should I intervene,' if I had to guess. I guess that inevitably he will have to find who his soul is more drawn to— his soul mate. Which will be…I don't know?" [laughs]
But if she had to choose between Nick ending up with Jess or Regan, who would she side with? "It has to be Jess and Nick. It has to be. They've been in love with each other for six seasons, so it has to be them."