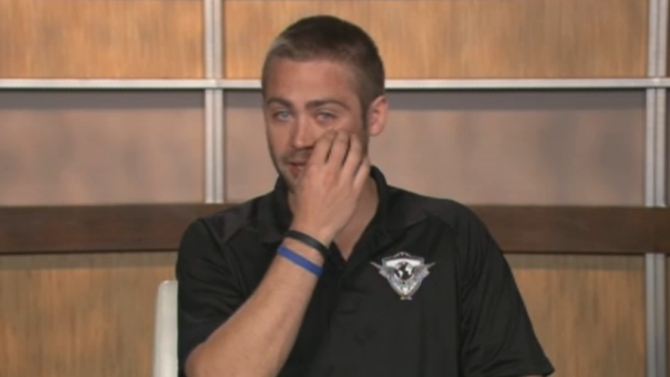 Prepárense para llorar.
Cody Walker, hermano de Paul Walker, apareció ayer en una entrevista en vivo con la cadena Fox en Baltimore para hablar sobre la organización filantrópica Reach Out Worldwide, pero cuando se le preguntó sobre su hermano difunto, el pobre no pudo contener sus lagrimas.
"Era simplemente increíble," dijo Cody, antes de emocionarse entre lágrimas. "Lo siento…era una persona súper sencilla..él hizo esto sin querer ningún tipo de reconocimiento. Fácilmente podría haber puesto su nombre en todo, pero él quería crecer orgánicamente y quiso hacer una diferencia [con esta organización]…era mi hermano mayor y lo admiraba mucho."
VER TAMBIÉN: RZA recuerda a su amigo Paul Walker 
Hoy mismo se estrena una de las últimas películas de Paul Walker, "Brick Mansions."
Por otra parte, Cody y su hermano mayor Caleb se unirán al elenco de "Fast and Furious 7" para terminar de grabar las últimas escenas de su hermano.
Vin Diesel recientemente compartió una foto con Cody y Caleb en el set de la película. Vin también lloró al recordar a su amigo Paul recientemente a traves de este video en Facebook.
VER TAMBIÉN: Los hermanos de Paul Walker en el set de 'Fast and Furious 7′
La semana pasada hablamos con RZA, quien protagonizó "Brick Mansions" con Paul y compartió unas palabras increíblemente emotivas sobre el actor.
"Paul era un hombre hermoso. Tenía un espíritu único," dijo RZA. "Compartíamos tiempo juntos fuera del rodaje, íbamos a diferentes tiendas de guitarras y comprábamos juntos. Él tenía una guitarra en su camerino y yo en el mío y tocábamos juntos. Era un hombre sencillo. Era un buen padre."
¡Te extrañamos, Paul!