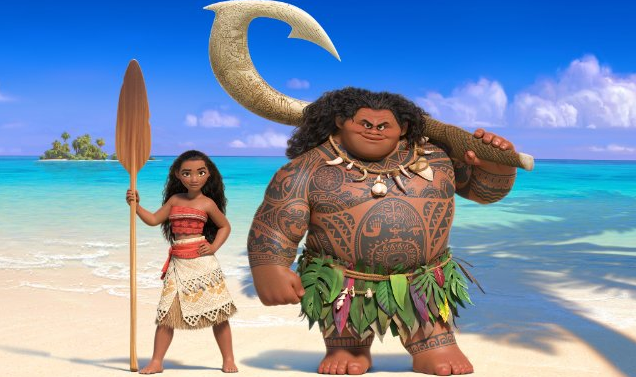 Disney released the first trailer for its newest animated film, Moana, during The Tony Awards on Sunday night. It features the voices of Dwayne "The Rock" Johnson and newcomer Auli'i Cravalho as the demigod Maui and Moana, respectively.
The animated story follows an adventurous teenager who sails out on a daring mission to save her people. During her journey, Moana meets the once-mighty demigod Maui, who guides her in her quest to become a master wayfinder. Together, they sail across the open ocean on an action-packed voyage, encountering enormous monsters and impossible odds, and along the way, Moana fulfills the ancient quest of her ancestors and discovers the one thing she's always sought: her own identity.
Cravalho is a newcomer who was discovered during a casting call in Hawaii. "I think Auli'i sings beautifully and was really a novice to all of this," co-director John Musker told Variety Latino. "We found her after a really exhaustive search during an open call and hundreds of people submitting auditions.
SEE ALSO 'Moana' Directors on Working with Lin-Manuel Miranda: "He's kind of a genius"
"We have a casting director in Hawaii who saw Auli'i the last day [of casting], she was the last person she saw. She was only there because the casting director had seen another tape that she had submitted for something else and she talked to her mother, telling her she should bring her in. She hadn't even thought of coming in for this but she did and we saw the tape. We loved the tape and flew her out here and had her try some songs she'd be singing. She did amazingly well."
Moana opens in theaters on November 23.