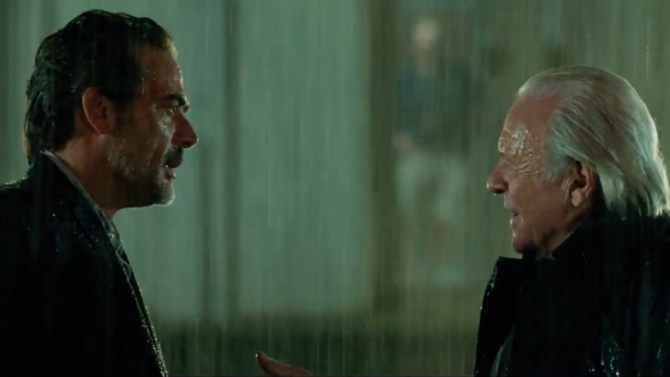 It looks like Jeffrey Dean Morgan is putting Negan's bat Lucille from The Walking Dead down for a bit and he's ready to help catch a bad guy in his new film Solace. A trailer for the psychological drama was released on Thursday showing Morgan as Agent Joe Merriwether and Abbie Cornish as Agent Katherine Cowles working with psychic Dr. John Clancy (played by Anthony Hopkins) to hunt down a serial killer.
"He knew that we would arrive at the apartment at precisely because he knows everything," Hopkins as Clancy says in the trailer. " See, he's just like me. He sees things, only he's better. A whole lot better. He added, "The whole thing is a trap and we're walking right into it. He's way beyond me. Which begs the question, is he worth stopping?"
The killer, played by Colin Farrell, is constantly ahead of the game and will be hard to apprehend. The trio will have to work hard to beat him at his own game. Will they be able to catch him before another life is lost?
Solace opens in theaters on December 16, 2017.