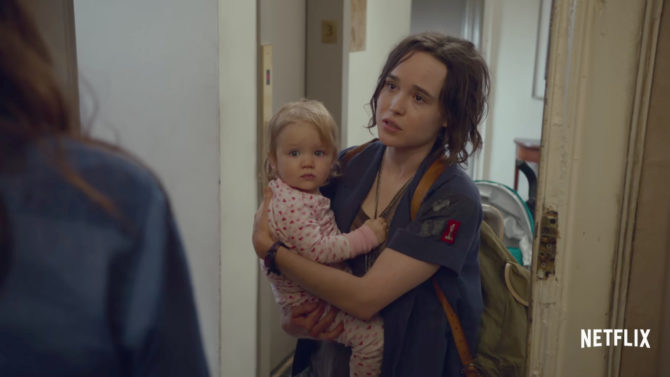 Desperate times call for desperate measures for Ellen Page's character Lu (short for Tallulah) in the first trailer for the Netflix Original Film, Tallulah. She's a vagabond living out of her van who is searching for her boyfriend Nico (Evan Jonigkeit) who has disappeared. She heads to New York to see if he went home, but it's his mother Margo (Allison Janney) who answers the door in a fancy apartment building.
Upon learning his mother has no idea where he is, Lu tries to scavenge some food at a hotel from leftover room service trays but she ends up meeting an overwhelmed mother who has no idea how to care for her baby. After she drunkenly passes out, Lu decides to "rescue" the baby from the negligent mom and she turns to the only responsible adult she knows: Margo, who mistakenly believes she's the child's grandmother.
When the police arrive at her residence, there's no telling what will happen.
The film is directed by Sian Heder (Orange is the New Black) and co-stars Zachary Quinto (Star Trek), David Zayas (Dexter), Tammy Blanchard (Into the Woods), John Benjamin Hickey (The Good Wife) and Uzo Aduba (Orange is the New Black).
Tallulah will debut on July 29 on Netflix.