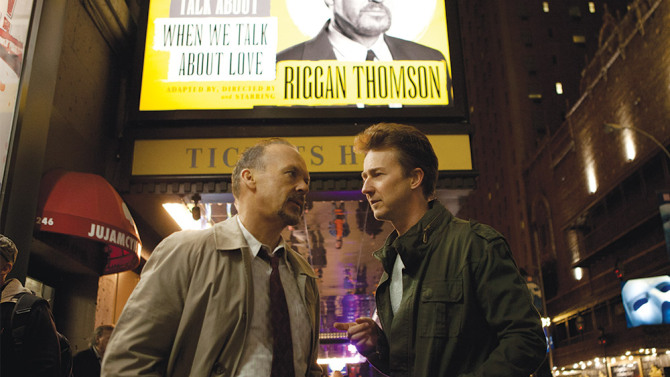 Como era de esperar la cinta de Alejandro Gonzalez Iñarritu, "Birdman" fue a gran ganadora de los "Gotham Awards", que se realizaron el 1 de diciembre en New York.
Entre los favoritos de esta ceremonia que premia el cine independiente, también estaban "Boyhood" y "The Grand Budapest Hotel," sin embargo fue finalmente la cinta del director mexicano la que ganó Mejor Película.
Michael Keaton, el protagonista de la historia, se llevó el galardón como Mejor Actor, ganándole a sus compañeros, Oscar Isaac por "A Most Violent Year" y a Ethan Hawke por la cinta de Linklater, entre otros.
"Voy a decir que este premio ayudará a avanzar las conversaciones que Michael Keaton y yo hemos estado teniendo con Marvel Studios para hacer 'Birdman 4′", bromeó Iñárritu cuando subió al escenario a recibir el galardón y expresó: "Desde sus inicios, esta película me ha dado alegría. Películas independientes, no importa qué, que tienen algo que decir ".
Estos premios se realizan desde 1991 y celebra lo mejor del cine independiente en Estados Unidos, su nombre se debe a que se realiza todos los años en Nueva York.
Cuando Keaton recibió el premio también bromeó por la relación entre el nombre de los premios y Batman: "Quiero agradecer a la gente de Gotham" y agregó: "Es bueno estar en casa."
Julianne Moore, por su parte ganó Mejor Actriz por la película "Still Alice", que como sabemos corre peligro en el box office, luego de que se filtrara por el hackeo que sufrió Sony.
En esta cinta proxima a estrenarse, la actriz interpreta a una mujer con las primeras etapas de Alzheimer: "Me encanta el cine independiente", dijo Moore. "Es el lugar donde finalmente encontré a mí mismo como actor."
Acá te dejamos la lista de ganadores.
¡Felicitaciones a todos ellos!
MEJOR PELÍCULA
"Birdman or (The Unexpected Virtue of Ignorance)"
Alejandro G. Iñárritu, director; Alejandro G. Iñárritu, John Lesher, Arnon Milchan, James W. Skotchdopole, producers (Fox Searchlight Pictures)
"Boyhood"
Richard Linklater, director; Richard Linklater, Cathleen Sutherland, Jonathan Sehring, John Sloss, producers (IFC Films)
"The Grand Budapest Hotel"
Wes Anderson, director; Wes Anderson, Scott Rudin, Steven Rales, Jeremy Dawson, producers (Fox Searchlight Pictures)
"Love Is Strange"
Ira Sachs, director; Lucas Joaquin, Jay Van Hoy, Lars Knudsen, Ira Sachs, Jayne Baron Sherman, producers (Sony Pictures Classics)
"Under the Skin"
Jonathan Glazer, director; Nick Wechsler, James Wilson, producers (A24 Films)
MEJOR DOCUMENTAL
"Actress"
Robert Greene, director; Douglas Tirola, Susan Bedusa, Robert Greene, producers (The Cinema Guild)
"CITIZENFOUR"
Laura Poitras, director; Laura Poitras, Mathilde Bonnefoy, Dirk Wilutzky, producers (RADiUS, Participant Media, and HBO Documentary Films)
"Life Itself"
Steve James, director; Zak Piper, Steve James, Garrett Basch, producers (Magnolia Pictures and CNN Films)
"Manakamana"
Stephanie Spray & Pacho Velez, directors; Lucien Castaing-Taylor, Véréna Paravel, producers (The Cinema Guild)
"Point and Shoot"
Marshall Curry, director; Marshall Curry, Elizabeth Martin, Matthew Van Dyke, producers (The Orchard and American Documentary / POV)
BINGHAM RAY MEJOR DIRECTOR REVELACIÓN
Ana Lily Amirpour for "A Girl Walks Home Alone at Night" (Kino Lorber)
James Ward Byrkit for "Coherence" (Oscilloscope Laboratories)
Dan Gilroy for "Nightcrawler" (Open Road Films)
Eliza Hittman for "It Felt Like Love" (Variance Films)
Justin Simien for "Dear White People" (Lionsgate and Roadside Attractions)
MEJOR ACTOR
Bill Hader in "The Skeleton Twins" (Lionsgate and Roadside Attractions)
Ethan Hawke in Boyhood (IFC Films)
Oscar Isaac in A Most Violent Year (A24 Films)
Michael Keaton in Birdman or (The Unexpected Virtue of Ignorance) (Fox Searchlight Pictures)
Miles Teller in Whiplash (Sony Pictures Classics)
* The 2014 Best Actor nominating panel also voted to award a special Gotham Jury Award jointly to Steve Carell, Mark Ruffalo, and Channing Tatum for their ensemble performance in Foxcatcher (Sony Pictures Classics).
MEJOR ACTRIZ
Patricia Arquette in Boyhood (IFC Films)
Gugu Mbatha-Raw in Beyond the Lights (Relativity Media)
Julianne Moore in Still Alice (Sony Pictures Classics)
Scarlett Johansson in Under the Skin (A24 Films)
Mia Wasikowska in Tracks (The Weinstein Company)
MEJOR ACTOR REVELACIÓN
Riz Ahmed in "Nightcrawler" (Open Road Films)
Macon Blair in "Blue Ruin" (RADiUS)
Ellar Coltrane in "Boyhood" (IFC Films)
Joey King in "Wish I Was Here" (Focus Features)
Jenny Slate in "Obvious Child" (A24 Films)
Tessa Thompson in "Dear White People" (Lionsgate and Roadside Attractions)