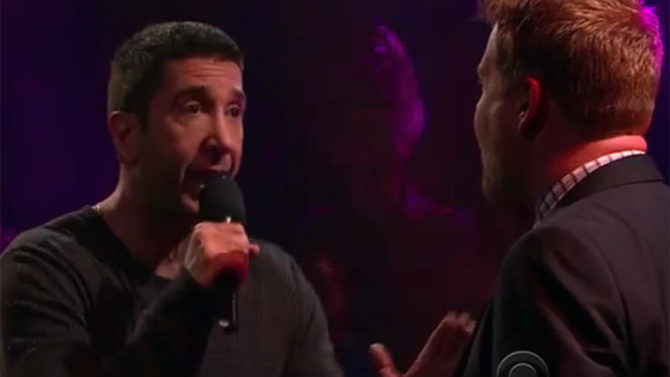 IDavid Schwimmer slayed James Corden in an epic rap battle on the Late Late Show Thursday night.
"Millennials, let me introduce you to this guy. His name is David – he was famous in '95," Corden said. "He was a Kardashian on TV, but that was only for pretend. You played Robert, and that was a great combo. But you were so white, you shoulda probably played the Bronco," he continued.
Corden finished his last rhyme by teasing Schwimmer about his former Friends co-star. "Now it's time for you to prove you've got balls while I ignore you like Jennifer Aniston does your calls."
Schwimmer stepped up to the plate with a few zingers. "Rap was born in this country, you're a tourist here. Do us a favor, James – just change your career."   
And finally adding, "Destroy me, please. Your rhymes totally blew. I worked with a monkey [that] had more skills than you."
Rebel Wilson was also a guest on the show and rap battled both Schwimmer and Corden.