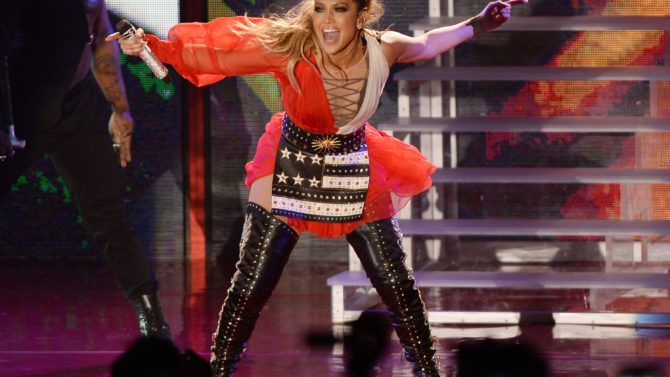 On Tuesday night, Donald Trump beat the odds and became the president elect of the United States of America when the majority thought he couldn't do it. He made inflammatory remarks about nearly anyone who is different to him throughout his campaign, yet he was able to get elected into the highest position in the country. If you're feeling lost and confused, you're not alone. A multitude of celebrities campaigned for runner-up Hillary Clinton, who did win the popular vote but came in short of electoral votes to make history as the first woman president.
For Latino celebs, Clinton, who has supported minorities throughout her political career, was the right pick. Trump, on the other hand, spoke badly about Mexicans, women, immigrants, Muslims and nearly anyone who isn't like him, because it is how he plans to "make America great again." This, in turn, encouraged his followers to talk down to those who are different thus creating major tension across this great country.
Jennifer Lopez campaigned heavily for the former first lady, including a free performance on Miami Beach alongside ex-husband Marc Anthony. Lopez took to Instagram on Wednesday to share a quote from Clinton as well as a bit of motivation.
"'The worst thing that can happen in a democracy —as well as in an individual's life— is to become cynical about the future and lose hope,' @hillaryclinton #LOVE #HOPE #FAITH Know who you are and what you stand for and don't let anybody or anything change that", wrote the actress.
Wilmer Valderrama, who had also supported Clinton, was very vocal throughout the campaign about people exercising their right to vote. On Wednesday, he posted a message to his 705,000 followers on Twitter encouraging them not to give up.
"In these moments of confusion, let's not lose our direction, our mutual vision for a better tomorrow…the next phase begins now. Stay united."
In a powerful and inspiring Instagram post, Queen of the South star Justina Machado reflected on how her family's struggle as they emigrated to the United States from Puerto Rico.
"My people came from Puerto Rico, I grew up in the inner city of Chicago," Machado said via her official Instagram account. "Here I am with my Abuela, she and the rest of her siblings left the island and moved to Chicago to give their children a better life . Today I'm heartbroken, but I will move forward and continue to fight the good fight for Women, for Latinos, for African American,s for ALL religions, for LGBT, for this beautiful country, for my Abuela's dream . I AM the American Dream… We all are. Let's not stop believing in it."
Actor and singer Jencarlos Canela toured the country with Macy's during Hispanic Heritage Month and used that platform to tell fans the importance of voting. He also discussed openly why Clinton was the right choice for America. On Wednesday, he shared his post-election feelings via Instagram.
"I continue to be proud of my decision to vote for Hillary Clinton. Proud that voter turnout amongst Latinos was not only higher than ever before but also for the same person I supported specifically in Miami, the city where I was born, and in California, where I currently reside. Now, as I said from the beginning, no matter what happens or who wins, we have to respect the decision and support our president."