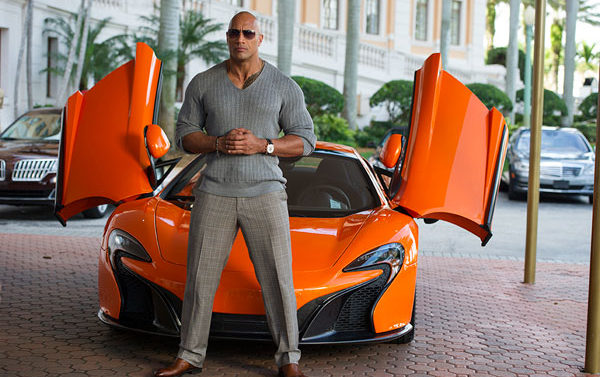 Dwayne Johnson and Mark Wahlberg are being sued by two writers who claim that HBO's Ballers "borrows heavily" from their screenplay Off Season. In an amended complaint filed in federal court in California on Tuesday, Everette Silas and Sherri Littleton have added a $200 million damages tag to their initial suit filed in December.
The lawsuit explains that Ballers borrowed intellectual property from Off Season, and claims that "certain aesthetic elements, including, without limitation, physical appearance of the characters and their vehicles, and plots, scenes, as well as story lines."
The plaintiffs allege that in 2007, copies of their Off Season screenplay were shared with Steve Mayer, an executive of IMG Productions, and Chris Albrecht, the acting chief executive officer of HBO, at the time. The lawsuit claims that HBO "had direct access to the Materials since its CEO was given a copy of the Materials."
The complaint also points out that the theme on both projects centers "around the fast paced and lavish lives of professional football players in the off season and depicts … the antics that these football players engage in, such as partying, fights, infidelity, drug use, and contract talks, and the steps they take and sacrifices they make to keep those antics from becoming public." The lawsuit also names Stephen Levinson, creator of Ballers, 7 Bucks Entertainment and Leverage Management.
Ballers premiered on HBO on June 21, 2015 and follows a former football player Spencer Strasmore, who tries to find success as a financial manager for current football players in Miami. The pilot episode was written by Levinson and directed by Peter Berg. The series was renewed for a second season.