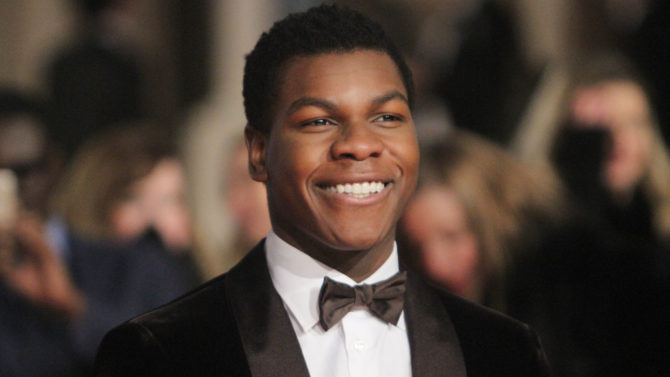 Star Wars: The Force Awakens star John Boyega is headed to London to appear in the new version of Georg Buchner's influential 19th century drama, Woyzeck.
Directed by Joe Murphy, the play is set to run from Feb. 25 through April 15 next year. The production will mark Boyega's first appearance on the London stage. The play centers on a low-ranking soldier who undergoes abusive treatment that eventually pushes him to commit a shocking act of violence.
The production was announced Wednesday. Woyzeck was written by Jack Thorne, the playwright behind the upcoming two-part theater event Harry Potter and the Cursed Child.
Boyega will reprise his starring role as rebel stormtrooper Finn in Star Wars: Episode VIII, directed by Rian Johnson.
In March, Adam Driver shared a few juicy details about Star Wars: Episode VIII. The actor, who played Kylo Ren in The Force Awakens, reassured fans that the First Order and Resistance are still at odds.
"They're still at war. It's still Star Wars," Driver joked during a special Q&A hosted by Entertainment Weekly. "They're not at peace."
The actor also talked about his working relationship with Johnson and how his style of work differs from The Force Awakens' J.J. Abrams.
"Their temperaments are different," Driver said. "I feel like there was so many moving pieces in the first one – just trying to solve it and set the vocabulary for what it was. There's a lot of that anxiety is gone, because people have developed a language. I think it's more of a testament to Rian coming into something very established and making it [his own]. I can't wait to get on set, just because he's so unassuming and intelligent and approachable. The script they've come up with is really great."