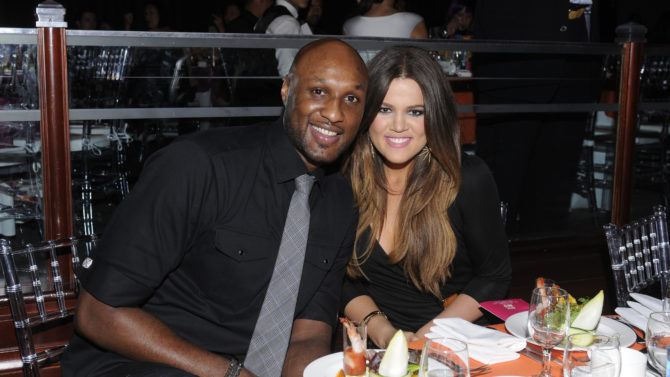 Khloé Kardashian appeared on the "The Ellen DeGeneres Show" on Monday during a Facetime interview with DeGeneres and her sister Kourtney. The author of Strong Looks Better Naked shared an update on Lamar Odom's current mental health condition.
"His long-term memory is great. His short term memory isn't so good, but I mean if I met someone earlier today I probably wouldn't remember either so that's understandable," she said about the former NBA player. "He's great. He's hung out with Kourt's and Kim's kids. He loves family time. I think it makes him feel good to be around everyone too and to just be in a happy environment."
Odom, who was found unconscious at the Love Ranch, a legal brothel in Crystal, Nev. in October, reportedly suffered a stroke following a three-day binge that included the use of cocaine and sexual performance enhancement substances on Oct. 13. Subsequently, Khloé and Odom called off their divorce, which was being processed when Odom's medical crisis occurred.
"Every day he'll ask me, 'So what happened to me?'" Kardashian said. "Like today specifically, he was like 'how many tubes did I have in me again?' (…) I'm honest. I'm like 'well, just a lot. I didn't count, I don't know.' It's good that he wants to know these answers. Before he didn't want to know; he wasn't ready to know. So it's great that he's at the point that he's ready to know everything [that] happened."
Earlier this month, Odom was moved to a Los Angeles rehabilitation clinic from LA's Cedars-Sinai Medical Center to continue his recovery.