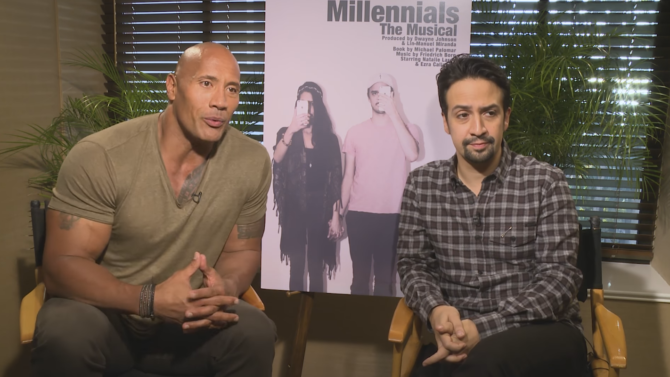 Dwayne "The Rock" Johnson and Lin-Manuel Miranda had so much fun together while working on Disney's Moana, they teamed up to create a musical mockumentary together called Millennials: The Musical. The duo introduced the production telling fans how much they wanted to partner up again and since they both have such incredibly busy schedules, how they're trying to remedy that.
"Obviously Dwayne and I are very busy in our respective fields," Miranda says in the video. Johnson added, "We have a team of scientists looking into slowing the rotation of the earth so we can film an extra movie when we're ready. We're serious about that."
The idea for the musical, according to the release, came from a pitch Miranda received via direct message on Twitter from a young man named Michael Palomar (played by Jack Jordan Norman) and he explained how the duo "couldn't say 'yes' fast enough. This is only a first look released giving viewers a behind-the-scenes look at the creation of the musical via The Rock's official YouTube channel. You'll be able to see the final product on November 29.
"Hamilton is a hard act to follow," The Rock told his YouTube fans on Tuesday. "So naturally we came up with the most pressing subject matter of our time…the hardship of the Millennial generation. Stay tuned for the full show next week. ~ DJ"