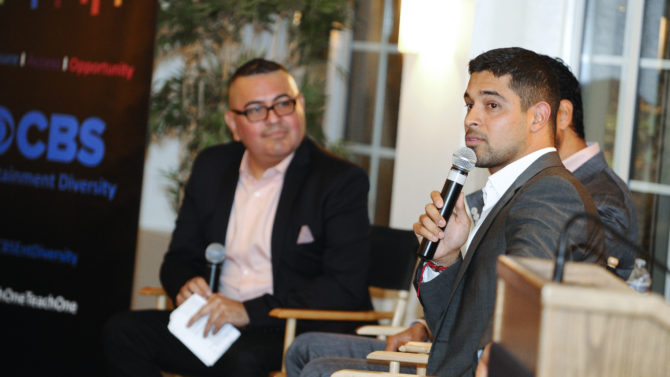 Wilmer Valderrama had a lot of tongues wagging when it was announced he would be reuniting with his That '70s Show co-stars Ashton Kutcher and Danny Masterson on their Netflix series The Ranch. Little is known about his character Umberto, so Valderrama gave Variety Latino a little more insight on what viewers can expect when we caught up with him at the CBS Entertainment Diversity Event on Thursday.
"Last year I posted a picture when I visited Ashton and Danny on set," Valderrama told Variety Latino. "We wanted to create all this speculation as to what [a reunion] would look like and our reception was amazing. People were so excited to see the three of us together on screen again. That's when we knew we were doing the right thing. We weren't avoiding a reunion, we just feel like it's too soon. I feel like it's too soon for all of us to make That '70s Show reunion. Everyone is so busy right now anyways. I've said this before but I'll put my money on a That's '70s Show movie before a TV reunion."
He added,  "I think returning to that set which Ashton and Danny have done a fantastic job of bringing back pretty much 2/3 of That '70s Show family from the crew to the props department, and the director. They brought back [David Trainer] the director who did all 200 episodes of That '70s Show, so he knows us really well."
Kutcher and Masterson seemingly had a plan in place to convince their buddy to join them on the show and they weren't going to take 'no' for an answer. Valderrama, who is a sucker for nostalgia, fell right into their trap.
"When I went to visit them before I agreed to come on the show they said, 'hey, look who's here.' And when I saw David Trainer standing next to Danny and Ashton, I went back to being an 18-year-old kid. I was back on a soundstage in front of a live studio audience and we're hearing the laughter. Danny and Ashton look pretty much the same, but what was missing was that I wasn't on the show. So they said to me, 'what are you waiting for man? What's up, buddy? We're trying to get the band back together!' At the time I was shooting like three shows, so I said, 'well you guys let me know if you think about a character. If I can find a window to come in play with you guys, I would love nothing more.'
Within a week he was like, 'so we have this character.' I was like, 'woah! That was fast.' He said, 'we're not fucking around. This is going down.' So I said, 'Ok, let's figure it out.'
The Venezuelan actor explained that along with all that we already know about him, Umberto's also going to be making a social statement.
"We built this character that I think is going to be really fun and it's going to make a social statement. He's a real Mexican worker at a ranch that does the hard work and the hard labor. Through comedy, we're going to make a statement about the hard working farmers. To me, that was reason enough to do this show— to make a loud noise when the three of us get back together on this level. Everything I do today and tomorrow will have some sort of statement that hopefully moves our needle forward."
Adding, "The Ranch gave us an excuse to hear our director David Trainer say, 'Action!' And then the three of us look at each other and not be able to say a word because we're cracking up so much and that's what happened. I did three episodes and there are rumors that I may or may not come back. I don't know what's going to happen. But we're definitely going to have fun and people are going to love it."
The second half of the first season of The Ranch is available to stream right now.