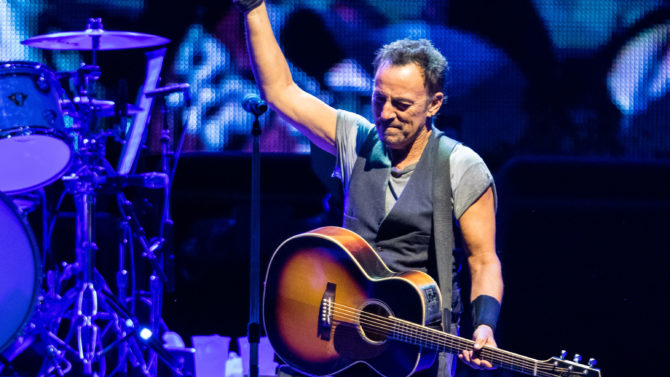 Fans of Bruce Springsteen and the E Street Band were treated to quite a concert at Citizens Bank Park in Philadelphia on Wednesday night. The band performed the longest show in the United States ever, coming in at four hours and four minutes after playing thirty-four songs. They beat their former record of four hours set on August 30 in New Jersey's MetLife Stadium.
The legendary performer took to Twitter to celebrate his accomplishment on Thursday morning.
"4 hours and 4 minutes of #TheRiverTour in Philly! See photos of the record-breaking show at http://brucespringsteen.net"
The show that kicked off at 8:05 p.m. local time featured a variety of songs from his repertoire including E Street Shuffle, My Love Will Not Let You Down, Rosalita (Come Out Tonight), and Streets of Philadelphia. The show wrapped up at 12:09 a.m.
The Boss, as Springsteen as known by his fans, could not beat is world record however. He played for four hours and six minutes in Helsinki, Finland back in 2012.
The River Tour continues with a second show in Philadelphia on Friday before heading to Pittsburgh on Sunday, September 11. Fans on social media are hoping Springsteen and the boys will try to beat the record once again during the final stop for the tour at the Gillette Stadium on September 14 in Massachusetts.
Officials in Foxborough have already extended the curfew by 15 minutes with the show set to end by 11:30 p.m.