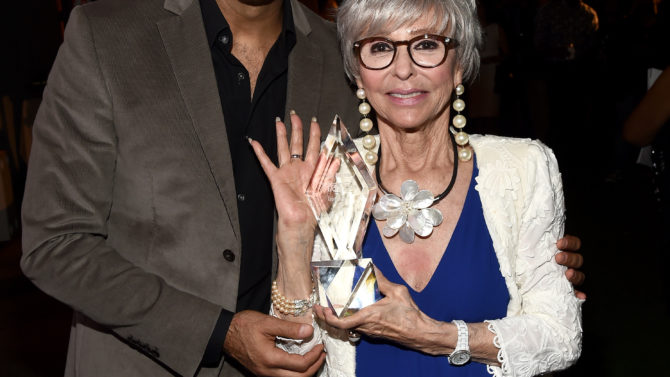 The stars were aligned on the red carpet for Variety Latino's "10 Latinos to Watch" party on Wednesday at the London Hotel in Los Angeles. Jane the Virgin star Jaime Camil caused both media and talent to get excited as he arrived to honor co-star Rita Moreno. Variety Latino chatted him up about what it means to him to honor the woman who played his mom on the hit CW show.
"On a personal note, everything," Camil said about what Moreno means to him. "I did a Mexican production of West Side Story with Chantal Andere who played Anita and I played Bernardo. So I watched the movie every single night. In order to get in the mood and jump on stage I liked having that feeling of the original movie in me. I experienced Rita's perfection in every performance. She always brought joy and a big smile to my face when I watched the movie. So when I found out she was going to play my mom I was like, 'get out of here! This isn't happening!' I played West Side Story in Mexico! This is really the universe playing tricks on me right now.
Then seeing her and how humble she is; she's always on time and she knows her lines. She treats that cast and the crew with the utmost respect. I was like, 'wow. So many accomplishments and so many successes in her life and then she's like this. She's a beautiful and a fellow actor/performer/artist here with us sharing the set. I'm very honored that you guys thought of me to give her this award tonight."
Though Camil isn't sure whether or not Moreno would be able to visit the show again with her busy schedule, he is excited about his character Rogelio finally having his best friend Gloria Estefan on the show.
"One of his best friends in the world, finally coming to the show. I'm very excited."
He wouldn't divulge any secrets about her appearance alongside husband Emilio Estefan, especially with executive producer Jorge Granier also on the red carpet as an honoree. But he did give a little insight into how he thinks Rogelio will react to Xiomara's (Andrea Navedo) pregnancy by his nemesis Esteban (Keller Wortham).
"As you can see the writers are mostly Americans, because if a Latino person was to find out about this, they wouldn't recover easily," he explained. "Remember in season two when Xiomara told Rogelio that she slept with Esteban? He recovered fairly easily for a Latino. So that's when you know the writers are mainly American. You know Rogelio loves Xiomara with all his heart so I'm sure that what reveal happens on the air, I think that you'll find that Rogelio will most probably be supportive of her and will stand by his family like he always does."
Jane the Virgin returns to the CW on Monday, October 17.