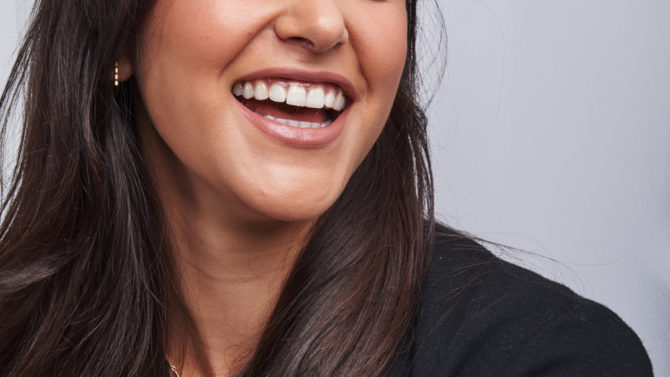 While taking off her high heels to put on flats (because a Hollywood actress is just like all of us and feels the pain when heels are way too uncomfortable), Melissa Fumero —who made it to our list of this year's "10 Latino's to Watch"— chatted with me as if we were old friends.
The 34-year-old actress, known as Amy Santiago in Fox's Brooklyn Nine-Nine, told Variety Latino that working on the sitcom is her dream job. "It's Season 4 and I still pinch myself going to work every day. I love our cast and everyone I work with. It's been a dream of mine to be part of a comedy show. Also, I'm a fan of Parks & Recreation, and Brooklyn Nine-Nine has some of the same writers. So, it's like winning the lottery."
Melissa, whose parents are Cuban, said she knew the arts were her calling at a very early age. She recalled, "My parents took me to a Broadway show when I was 10 and I think that was it. I looked at the actresses on the stage and I was like, 'I want to do that.' So I took classes. I was always making up plays and making my parents watch them. Then I majored in drama at New York University (NYU), and have been working ever since, which is crazy and awesome to be able to say that."
SEE ALSO Alfonso Herrera, From Latin America's Sweetheart to 'The Exorcist'
Fumero's credits include One Life to Live, Royal Pains, Men at Work, CSI: NY, and Driver X. Also known for her appearance on Gossip Girl, she thinks Latina actresses today have more opportunities in Hollywood than ever before.
"It's about time," she exclaimed." Even though there's more we can still do, I feel like we are finally getting to a place where the entertainment industry is reflecting what our country looks like. I would love to see a lot more Latinos behind the camera as well."
Adding: "When I started auditioning I would do things to look more Latina because there was this single version of what a Latina was. I would do my hair wavy and I would wear hoop earrings, just because I knew there was just one look. I don't feel like I have to do that anymore and I feel like that's progress."