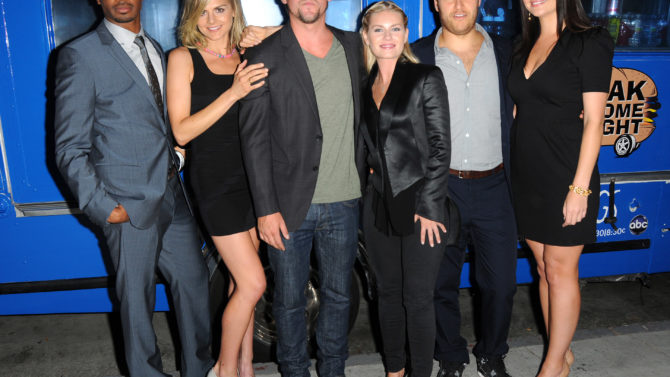 The cast of Happy Endings are getting back together but it's not for the reason you're hoping. Ever since the show ended in 2013, fans have been hoping and praying that they'd see more of Eliza Coupe, Elisha Cuthbert, Adam Pally, Damon Wayans Jr., and the gang for a movie or a full on streaming return via Netflix or Hulu. Alas, it's nothing as amazing as all that but it's still awesome! The gang is getting back together for a special live-read of a lost episode on October 29 in Los Angeles as part of the EW PopFest.
"Not. A. Game.," Tweeted show writer Prentice Penny on Saturday. He also included a photo of sign stuck to a door that reads, "Happy Endings 401." No word if this episode would have served as the season four premiere had the show not been cancelled or if it was written specifically for this occasion.
If that isn't enough confirmation, the official writer's room Twitter account also took to social media to celebrate. "WRITERS ROOM IS OPEN FOR THE LOST EPISODE! Follow us on Instagram hashtag: #happylostep"
There has been no word as to what the episode might be about so if you didn't have plans to attend EW PopFest, you may want to reconsider before all tickets are gone.