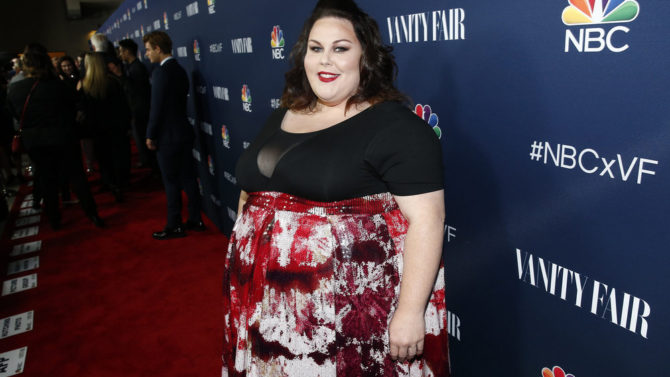 NBC's Tuesday night hit drama This Is Us is helping turn actress Chrissy Metz into a household name. With multiple TV credits to her name including American Horror Story and My Name is Earl, it's about time Metz is getting the attention she deserves for her beautiful portrayal of Kate Pearson on the Dan Fogelman created series.
Variety Latino caught up with Metz at the NBC & Vanity Fair Toast the 2016-17 TV season on Wednesday night in Hollywood who discussed her character's co-dependent relationship with her twin Kevin (played by Justin Hartley) as well as tease what fans can expect as the holiday season approaches.
So many things have been teased on This Is Us but the one constant is the relationship between twins Kate and Kevin Pearson. We recently learned that the siblings would separate for an undisclosed about of time while Kevin segues from TV acting to theater in New York City. Will the co-dependent duo be able to stay apart and find their own ways?
"Twins have a special bond and siblings obviously also have a huge bond," Metz told Variety Latino about Kate and Kevin's relationship. "But the co-dependent stuff is tricky. You think you're not whole without the other person. And it's beautiful the way that we're discovering that Kevin and Kate really are individuals but they have to learn to live without each other, at least for some time. It's really nice to see that because that's part of Kate's issue.
She's always put everyone else first and now she's coming into her own. She is becoming the woman that she wants to be and that she always knew she could be. Kevin just wants to be liked for being more than just a hot body. Kate wants people to like her for who she is not because you don't like her body. They have such a great duality in their relationship and it's really fun to play too because Justin is such a gem and also because they're written so well. We all have co-dependent relationships whether we know it or not."
She added, "You can't ignore somebody who you are so close to but I think she's going to try to. But the holidays are coming up so they'll have some quality time together soon."
Another point that's been made clear is Kate's close relationship with her father Jack (played by Milo Ventimiglia). In episode 4, he helps heal Kate's broken heart after a group of girls write a mean note to her cutting off their friendship.
"As you saw in the previous episode, when Milo and McKenzie [Hancsicsak] had that scene in the pool and he's just trying to make her feel better. He lets her know that no matter what age or what weight and no matter what she looks like, she will always be his princess. I never had that relationship growing up so it was really tender for me and such an emotional scene. Jack was always rooting for Kate and maybe there was a strain between Kate and Rebecca [Mandy Moore] that he always overcompensated for that and they got really close. So she became a daddy's girl and they watched sports together. She became the glue that holds that family together in a way."
One thing we have not seen is Kate and Kevin interact with present day mom Rebecca who is now married to Jack's best friend Miguel (Jon Huertas). When will audiences see their reactions to that pairing as well as the state of their current relationship with mom?
"The holidays are coming up so family's get together," she teased.