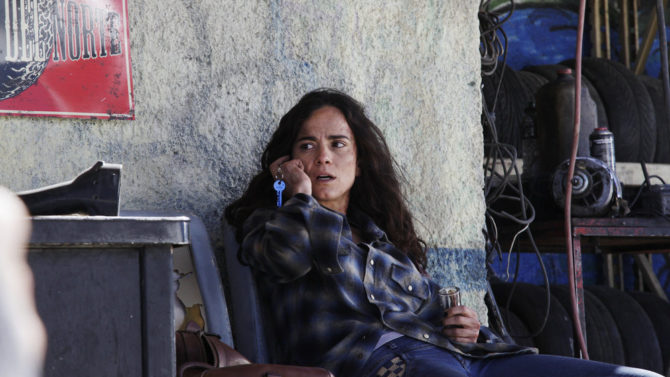 Teresa Mendoza is not easily spooked, but when it comes down to a life or death situation, she tightens up her belt buckle and prepares for the fight of her life in USA Networks, The Queen of the South. Alice Braga makes her television debut playing Mendoza in this retelling of Arturo Pérez-Reverte's best-selling novel, La Reina Del Sur. She takes the reigns from Mexican actress Kate del Castillo who starred in the Spanish-language version that aired on Telemundo to record-breaking audiences.
Mendoza needs to not only survive, but to beat her enemies and exact revenge for the murder of her drug dealing boyfriend who was killed in Mexico. On her way to America, she must find a way to stay alive. This requires her to be extremely careful of who she trusts along the way.
In this exclusive clip of next week's episode, Mendoza makes an error in confiding in someone from her past (played by Joaquim de Almeida) that doesn't have her future at heart. She has many lessons to learn if she plans to not only take down the cartel but to become their queen. There will be a lot of people watching and waiting for her to fail, but she's got everything she needs to get to the top.
Queen of the South premiered Thursday, June 23, at 10/9c on USA Network.