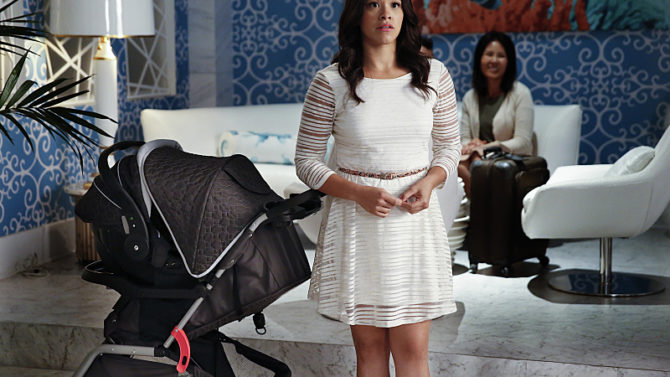 Gina Rodriguez is ready to step behind the camera and become a director on The CW's, Jane the Virgin. The Chicago-native spoke to Variety Latino at the Verizon's "Bienvenido a lo Mejor" event about what went down in the season 2 finale, potential guest stars for season 3, and her plans to direct.
When we last saw Jane Villanueva (Rodriguez), she had just married Michael Cordero (Brett Dier) but unfortunately, they did not live happily ever after. Cordero was shot before the young couple ever had the chance to consummate their marriage. Rodriguez remained tight-lipped about their future, but she did tackle the question about what the narrator said during the episode, Chapter 10.
Michael said to Jane, "I'm not just going to give up on us. We belong together, and I'll never stop believing that." The narrator followed that with, "And for as long as Michael lived, until he drew his very last breath, he never did."
Rodriguez said,  "So you all are watching? You're watching and listening. You know, I just don't see it yet. I don't know. I honestly don't know. But I don't see it yet. I always forget that the narrator said that. Every time a supporter of the show brings that up, I wonder why I forgot about it. I don't want to see him leave. I want Michael."
Another big reveal during the finale is that Jane's mom Xo (played by Andrea Navedo) is pregnant. This wouldn't be such a huge deal if she was still with Jane's dad Rogelio (Jaime Camil), but alas, in true telenovela style, it's much more complicated than that.
"Jane doesn't even know [her mom] pregnant," she explained. "So I can't wait until she finds that out. That would be crazy. Especially since she wouldn't be having the baby with my father. She's having a baby with Esteban (Keller Wortham), my father's arch nemesis!"
She added about everything Jane will have to tackle in season three, "And then on top of that, it's like 'what's going to happen to Michael?' Then on top of that, 'what's going on with Petra [Yael Grobglas]?' Is Petra going to live or are we only going to know Anezka? Are we going to know Anezka through Petra?"
In season two, there were a lot of huge guest stars including Britney Spears, Kesha, Adam Rodriguez, Kate Del Castillo, Rita Moreno, and Bruno Mars who sang at Jane and Michael's wedding. Who is on Rodriguez's wish list for the upcoming season?
"Bruno Mars is a fan of the show," she said. "That's the reason why he came. He told me, 'I want to sing at your wedding.' I said, 'You want to sing at my real wedding? Let me find a man right quick!' I can only imagine who we'll have next season. I want Prince Royce and Ricky Martin to come on the show. I want Eva Longoria to come and direct."
Speaking of directing, what are the chances that Rodriguez will follow Longoria's lead?
"100% yes, she explained. "I'll be directing Jane at some point for sure. FOR SURE. And then eventually maybe another television show."
Jane the Virgin returns to The CW on Monday, October 17.