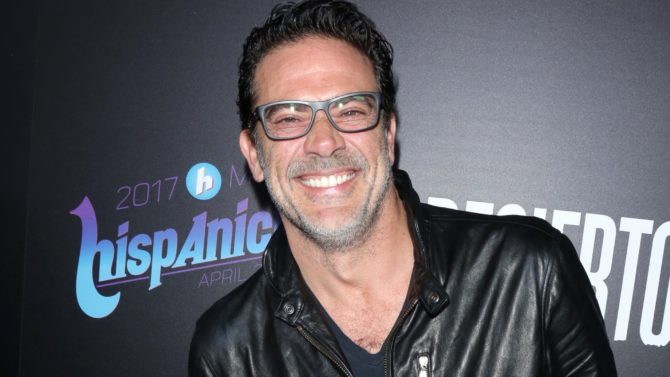 Jeffrey Dean Morgan has made a career out of playing a lot of good guys, but now he's having a great time playing the opposite. In Jonas Cuaron's latest thriller Desierto, he plays a racist murderer named Sam who goes on a rampage slaying innocent immigrants with the aid of his equally villainous dog. As Negan on The Walking Dead, he's tortured fans who are desperately trying to figure out which audience favorite his character murdered in the season 7 premiere.
Variety Latino spoke to Morgan at the Los Angeles premiere of Cuaron's film hosted by Hispanicize on Tuesday where he debunked a big TWD theory and encouraged others about the big death because who can talk of anything else right now? So what about that interview he gave to Den of Geek that had fans thinking he kills off more than one person in the premiere?
"That's not what I said, Morgan told Variety Latino. "I did an interview with this guy and I was talking about Negan's arc and what he does in the course of being Negan on The Walking Dead. Instead of talking about the one person Negan kills—because Negan kills a lot more than one person on the lineup. And somehow he pieced that all together in such a way that it turned into the article that he wrote. It was to get people fired up. Negan does kill a lot of people in the next couple of years. Before we even meet him he's killed a lot of people. Negan's been around for a long time."
The next theory to tackle was the newest one about the blood splatter seen on Andrew Lincoln's face in the season 7 sneak peek. This one he wasn't so keen to discuss, so could this mean fans are on the right track?
"I mean, he's got a bloody face," Morgan said with a big smile on his face that lasted this entire quote. "It could be splatter. I could've slapped him. I could've spit on him. All I'm going to say to tune-in on the 24th and you'll get all those answers. So keep coming up with the theories, I love them. Everyone on the show loves the theories. You only have like ten more days or something. It's almost upon us."
The big death in the premiere is inevitable but what else can fans expect from Negan as the season progresses?
"I think the first episode is a lot to handle," he said. "I think it's a lot for the viewers to handle. But you got to understand Negan's around for the long haul. I think everyone is going to hate him after 701, the first episode of season seven. Then as you get to know him, what I'm hoping is that you learn to love to hate him. You'll get to see some different sides to him that I think are pretty interesting. Know that I love working with this cast. It's an amazing group of people and we're all having a lot of fun with everything that's going on right now. But it's going to be very hard for you guys."
Morgan has two intense roles he's promoting right now and it's only fair that we put them together to battle it out. So who would win if Sam from Desierto fought The Walking Dead's Negan?
"Negan would win! I would want Negan to kick his ass."
Desierto opens in theaters on limited release on Friday.