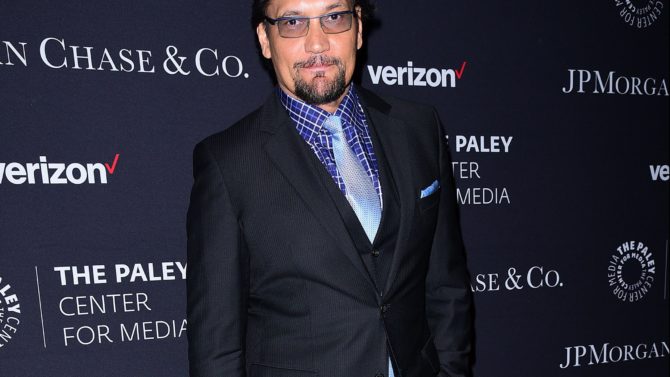 It's been nearly two years since Sons of Anarchy took its final ride on FX and all anyone can talk about since is the spinoff set to focus on the Mayan MC. According to a story on Variety written in March, the network has already begun script development with SOA creator Kurt Sutter and Elgin James at the helm. At the heart center, Mayan MC will also be a dark family drama focused on the 1% outlaws but this time reflected through a Latino lens.
This brings to mind two lead characters from the original series that could return, Marcus Alvarez (played by Emilio Rivera) and Nero Padilla (played by Jimmy Smits). Variety Latino spoke to Smits on the set of his new Fox series, 24: Legacy about whether or not he'd want to explore more of Sutter's world in the upcoming spinoff.
"I don't know what Kurt has up his sleeve," Smits told Variety Latino during a set visit in Atlanta on Monday. "Kurt is the man big time. I'm sure he has in his head a way he wants to deal with [the story] and if he wants to just sprinkle Nero in there at some point, I'm totally down for that. I love the world that he created and the lore that he created. I'm glad that he's decided to venture off into that part of the world."
Smits, a veteran actor with a multitude of credits to his name, admits he's picky when it comes to choosing roles he decides to portray. Since working on Sons, he has been offered many roles but he has only accepted work on Netflix's The Get Down as Papa Fuerte and on 24: Legacy as Senator John Donovan.
"The bottom line is I want to keep mixing it up and doing different things, Smits said. "Kurt had a lot to do with the fact that I jumped on board with [Sons of Anarchy] and I was a big fan of the show. With The Get Down, [signing on] had to do with the fact that I'm from New York and that particular hip-hop time to me is very vivid in my mind. I have recuerdos from that time. And when I got to meet those young people on the show I wanted to be part of helping to shepherd them on their way in terms of not only the actors but also the story we were telling.
[I signed on to 24: Legacy] more so than anything because the group that was involved in creating this are the same [from the original]. I'm not really in the pilot except for like two little scenes but [Stephen Hopkins] who directed the original 24 directed it. [Jon Cassar] who is the supervising director and directs most of the show did like 60 episodes of 24. The writers that are involved in the new show have done seasons of the original. So I felt this overwhelming comfort that these people know how to do this show."
As is evident, Smits is a big fan of the original Fox series starring Kiefer Sutherland and he has confidence that Corey Hawkins is the right actor to lead the new series.
"The original was so popular on so many different levels, the whole thing about Jack Bauer and all that," he said. "To me, Corey does a fantastic job. The character is totally different because he's not an agent. He's somebody who is being sucked into this because he was an army ranger. So it's different but the same.
[Donovan] is a different kind of character for me although some people might say, 'you played Matt Santos on West Wing and that was a politician but it's totally different. We were exploring what it was to do a campaign [on West Wing]. This one is a particular action genre so yeah,  I just keep mixing it up."