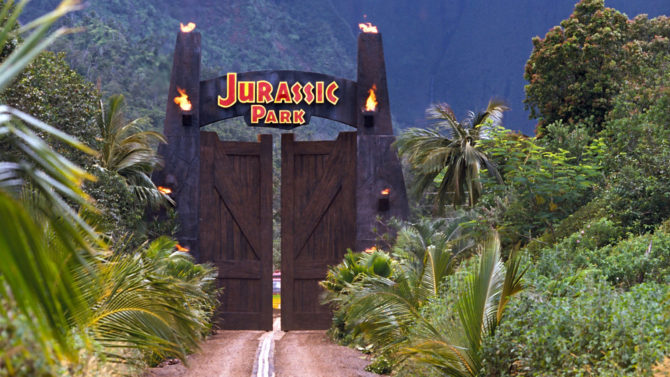 June will be a big month for new releases on Netflix. The streaming service shared on Monday a complete list of binge-worthy original series and classic movies to be available next month.
A few Netflix originals include Bo Burnham: Make Happy, Season 4 of Orange is the New Black and A Very Secret Service: Season 1.
And if you're looking for hit movies, Netflix will begin streaming Spotlight, J. Edgar, Jurassic Park, The Lost World: Jurassic Park, The Giver and Sin City: A Dame to Kill For.
See the full list below.
Available June 1
7 Chinese Brothers (2015)
72 Cutest Animals: Season 1
72 Dangerous Places: Season 1
A Walk to Remember (2002)
Big Stone Gap (2014)
Bob Ross: Beauty is Everywhere (1990)
Breaking the Magician's Code: Magic's Biggest Secrets Finally Revealed: Season 1-2
Cold in July (2014)
Conspiracy Theory: Did We Land On The Moon? (2001)
Cuba: The Forgotten Revolution (2015)
(Dis)Honesty: The Truth About Lies (2015)
El Libro de Piedra (1969)
Elizabeth: The Golden Age (2007)
Extraordinary Tales (2015)
The Fear of 13 (2015)
Gabo: The Creation of Gabriel García Márquez (2015)
Gentlemen and Gangsters: Season 1
The Good Witch: Season 1
The Great Alone (2015)
Hadwin's Judgement (2015)
J. Edgar (2011)
Jaco (2015)
Janis: Little Girl Blue (2015)
Jurassic Park (1993)
Jurassic Park III (2001)
Lion Heart (2013)
The Lost World: Jurassic Park (1997)
Meadowland (2015)
The Odd Couple II (1998)
Off Camera: Series 1
Pokémon the Movie: Hoopa and the Clash of Ages (2015)
Pokémon: XY: Kalos Quest: Season 2
Portrait of a Serial Monogamist (2015)
The Resurrection of Jake the Snake (2015)
Rock the Kasbah (2015)
Sam Klemke's Time Machine (2015)
Second Coming (2014)
Tab Hunter Confidential (2015)
UFOs: The Best Evidence Ever (Caught on Tape) (1997)
Underdogs (2013)
What Our Fathers Did: A Nazi Legacy (2015)
Wildlike (2014)
Available June 2
Beauty & the Beast: Season 3
Hibana: Spark – NETFLIX ORIGINAL
Pretty Little Liars: Season 6
Available June 3
Bo Burnham: Make Happy – NETFLIX ORIGINAL
Available June 6
Darkweb (2015)
Available June 7
Every Thing Will Be Fine (2015)
Jarhead 3: The Seige (2016)
Available June 10
LEGO Friends: The Power of Friendship: Season 2 – NETFLIX ORIGINAL
Voltron: Legendary Defender: Season 1 – NETFLIX ORIGINAL
Available June 11
Me Him Her (2016)
Scandal: Season 5
Available June 12
Already Tomorrow in Hong Kong (2015)
Available June 14
The League: Season 7
Available June 15
After The Spill (2015)
Boom Bust Boom (2016)
The Giver (2014)
In the Shadow of the Moon (2007)
Naz & Maalik (2015)
Night Owls (2015)
Poverty, Inc. (2014)
Top Spin (2015)
TransFatty Lives (2015)
Available June 16
Being Mary Jane: Season 3
Marvel's Agents of S.H.I.E.L.D.: Season 3
The Unborn (2009)
Available June 16
All Hail King Julien: Season 3 – NETFLIX ORIGINAL
Orange is the New Black: Season 4 – NETFLIX ORIGINAL
Available June 18
Cedar Cove: Season 3
Grey's Anatomy: Season 12
Available June 19
Bunk'd: Season 1
I Am Thor (2015)
Available June 20
Life Story: Series 1
The Making of Life Story
Available June 21
Best Friends Whenever: Season 1
Available June 22
Sin City: A Dame to Kill For (2014)
Spotlight (2015)
Available June 24
Dragons: Race to the Edge: Season 3 – NETFLIX ORIGINAL
The Fundamentals of Caring (2016) – NETFLIX ORIGINAL
Justin Time GO! – NETFLIX ORIGINAL
Available June 27
Cronies (2015)
Available June 29
Life (2015)
Available June 30
A Very Secret Service: Season 1 – NETFLIX ORIGINAL
Palio (2015)
(T)ERROR (2015)