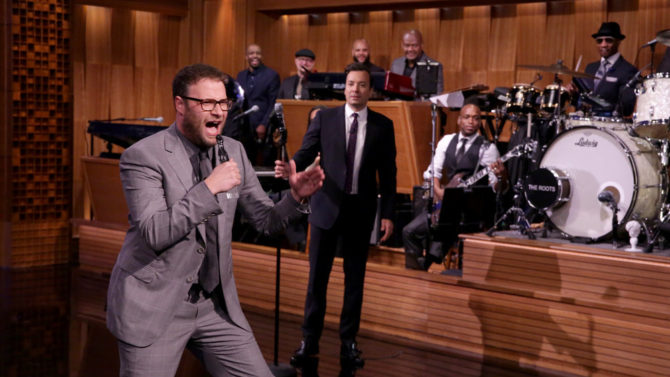 Just when you thought Drake's Hotline Bling was starting to fade away, Seth Rogen brings it back! The actor took on Jimmy Fallon in a Lip Sync Battle on The Tonight Show on Friday night which resulted in the duo lip syncing to some pretty awesome tracks including the earworm mentioned above.
Rogen, who is currently promoting the release of his animated adult comedy Sausage Party, decided to use live playback with the help of house band The Roots kicking off the friendly competition with Mellow My Man as Black Thought performed live.
"We have one of the greatest bands in the world here on this stage," Rogen said. "I've been a fan of The Roots since, literally, the day I was born and they have agreed to help me out with a live playback of a song off their classic 1995 album Do You Want More?"
Fallon followed by tackling Slam by Onyx, before Rogen belted out, "You used to call me on my cellphone," as sung originally by his fellow Canadian. He even had the dance moves and grey turtleneck from the music video ready for the battle!
Who took home the championship title on Friday night? You have to watch the clip below to find out: