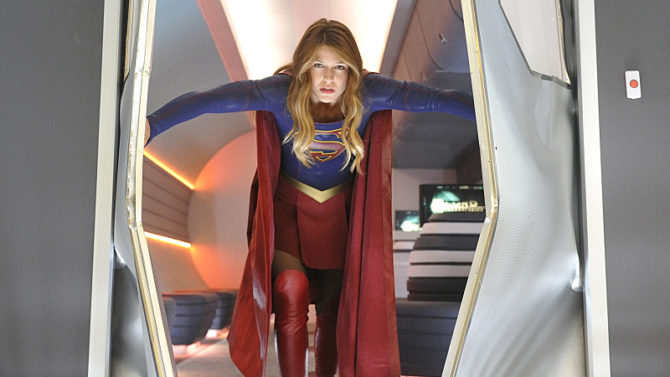 Supergirl is going through a lot of changes for season two, including a big move from CBS to sister network The CW and Kara Danvers (Melissa Benoist) is getting a visit from a famous cousin. Although show producers had previously rejected the idea of having Superman over for a visit, this Monday, they announced casting has begun for their Clark Kent.
"Greg, Ali and I are beyond thrilled to welcome Clark Kent and his slightly-more-famous alter ego to the world of Supergirl," said Executive Producer Andrew Kreisberg in a statement to Variety. "Superman will be appearing in the first two episodes of the new season and we cannot wait to see who next dons the red cape!"
SEE ALSO Megan Fox Talks 'Ninja Turtles' And Her Return to 'New Girl' Next Season
Who are the top 5 actors who could take on the role? Variety Latino offers up their choices below:
1) Ryan Guzman – The actor, who starred opposite Jennifer Lopez on the big screen in The Boy Next Door, already looks the part. His work on Heroes Reborn proves he is ready to be part of a supernatural world and after two Step Up films, we know he's light on his feet.
2) Matthew Daddario – On Shadowhunters: The Mortal Instruments, Matthew's character Alec Lightwood possesses enhanced strength, speed, and agility; everything Superman needs to succeed. His brunette locks and dimples add to the already convincing package.
3) Diego Boneta – Mexican actor Diego Boneta's hair may be a bit lighter than Superman's, but that's something hair dye could help a-la Henry Cavill. Much like Guzman, Boneta has a background in dancing and performing being that he is also a singer and he's gotten a lot of attention for his work in Fox's Scream Queens.
4) Matt Bomer – When Bomer made his big television debut on White Collar, fans couldn't help but notice his resemblance to Superman. He's definitely an older choice, but his baby face can certainly pull it off. In 2013, the Missouri-native even voiced the superhero in the animated film Superman: Unbound.
5) Tom Welling – The most popular name on fan wish-lists is Welling, who played Superman in The CW series Smallville. In order for this casting to happen, writers will need to get creative since the backstories are different. It's not impossible but it might be easier to pick someone fresh and new for the role.