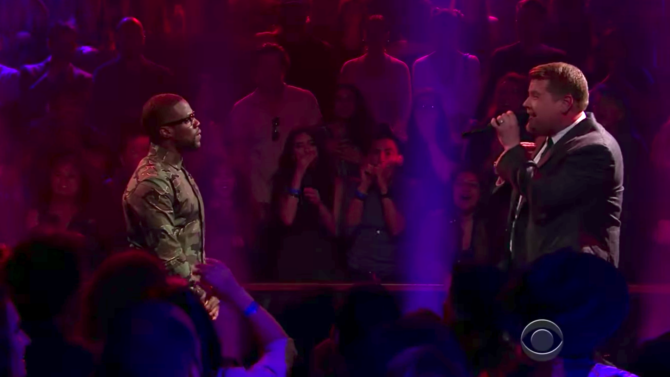 Kevin Hart and James Corden battled it out in a war of words on The Late Late Show on Wednesday night. During the segment "Drop the Mic" the duo exchanged clever insult before the audiences could choose a winner. This was a no-holds-barred freestyle rap battle and neither held back.
Corden kicked-off with jokes about Hart's height, "Where is he? There he is. I found you Kevin Hart. There are no small actors, for all your small parts. You're adorable. Look at this guy. You're so little when you smoke weed you get junior high."
He added, "Get Hard, Ride Along, Ride Along 2. Hey, you're great at being in movies with people more famous than you. Why would you step to me? You know I can destroy you. You might think like a man but you're built like a boy."
SEE ALSO Official Trailer for Kevin Hart's 'What Now'
Hart responded without missing a beat, "James Corden thinks I look like a kid. Well, I might be small but my bank account's big. I admit people are nice to your face, until they get home and realize you're not Ricky Gervais.
He finished it with, "Carpool Karaoke how long will that last? How do you rap with your head up Lin-Manuel's ass?"
The duo continued serving each other zingers before a winner was chosen. Check out the video below and find out who won: