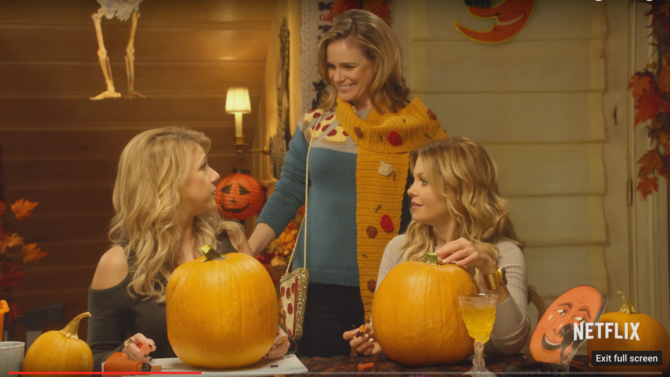 Fuller House will debut a full trailer for season two on Tuesday, but to celebrate Halloween the cast released a Halloween-themed teaser. In it, you'll see Candace Cameron Bure, Andrea Barber, and Jodie Sweetin as D.J. Tanner, Kimmy Gibbler, and Stephanie Tanner respectively, who are carving pumpkins at home. When Gibbler bursts through the day as she always does, the Tanner siblings compliment her on her costume.
"Kimmy you scared us," the older Tanner sister said. The younger Tanner tells Gibbler, "Nice costume." To which Gibbler responds, "Costume? I'm not wearing a costume." Stephanie says, "You could have fooled me." Gibbler ends the commentary with her famous catchphrase, "How rude!"
In the Netflix show's second season we will see D.J. end her love triangle when she chooses either her childhood boyfriend Steve (Scott Weinger) and the new kids on the block Dr. Matt Harmon (John Brotherton). And while fans hope she will choose one or the other, it's still possible that she choose neither of them. Especially since D.J.'s favorite boyband New Kids on the Block are set to guest star for season two.
Tune in for more Fuller House on December 3, 2016, starting at 3am Eastern Time.