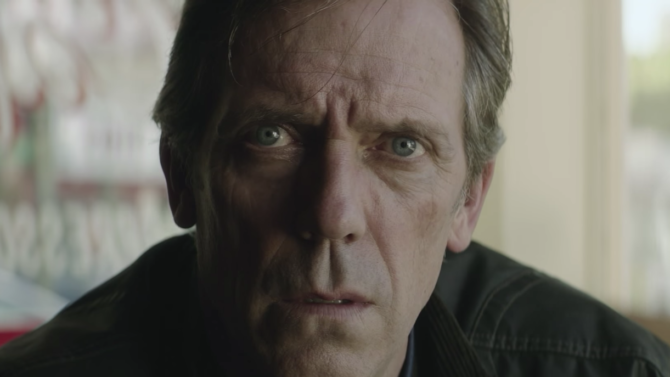 Make sure to mark October 19 on your calendars for Hugh Laurie's return to television in the psychological thriller, Chance. The 10-episode series, which has already landed a two-season order off the bat, will join Casual, The Mindy Project, and East Los High on Hulu's original programming slate.
In the first trailer released from Hulu's TCA presentation, Laurie is introduced as Eldon Chance, a forensic neuropsychiatrist who reluctantly gets sucked into a violent and dangerous world of mistaken identity, police corruption and mental illness.
Here's the official synopsis for the show based on the novel by Kem Nunn:
After an ill-advised decision regarding an alluring patient who may or may not be struggling with a multiple personality disorder, Chance finds himself in the crosshairs of her abusive spouse, who also happens to be a ruthless police detective. In over his head, Chance's decent into the city's shadowy underbelly, all while navigating the waters of a contentious divorce and the tribulations of his teenage daughter, soon spirals into an ever deepening exploration of one of mankind's final frontiers — the shadowy, undiscovered country of the human mind.
The streaming series is directed by Room's Lenny Abrahamson who will also serve as executive producer.