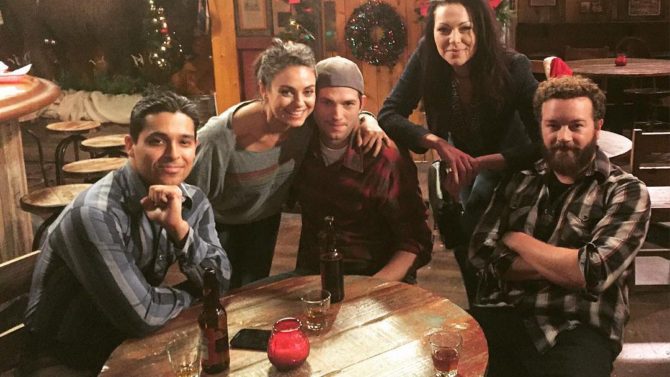 Si eras fan del programa de comedia That '70s Show, entonces no se te hará nada difícil identificar los rostros que protagonizan las siguientes fotografías.
Wilmer Valderrama, Mila Kunis y Laura Prepon visitaron el set de grabación de The Ranch, una de las más recientes series originales de Netflix, para brindarle su apoyo a Ashton Kutcher y Danny Masterson, protagonistas de este nuevo show.
"Yo y las chicas vinimos a apoyar a nuestros hermanos @dannymasterson & @aplusk durante la filmación del episodio final de #TheRanch #Season1", escribió el actor venezolano en su cuenta oficial de Instagram. En That '70s Show, Valderrama interpretó al inolvidable Fez, un extraño pero gracioso extranjero que se convirtió en amigo inseparable de estos chicos.
Por su lado, Masterson publicó la misma versión de la foto, expresando lo feliz que estaba por la visita de sus amigos.
Kutcher recientemente expresó durante una entrevista con EW, que prefería no pensar en la posibilidad de una reunión del exitoso seriado a través del cual saltó a la fama. "That '70s Show es un show nostálgico. Creo que era nostálgico mientras estaba siendo grabado, y ahora es nostálgico por razones diferentes", sentenció el esposo de Kunis, actriz que interpretaba el rol de Jackie Burkhart en este seriado.
Este viernes, los actores de The Ranch anunciaron que la serie acababa de ser renovada para una segunda temporada. Si todavía no la has visto, la primera tanda de 10 episodios ya está disponible a través de Netflix.