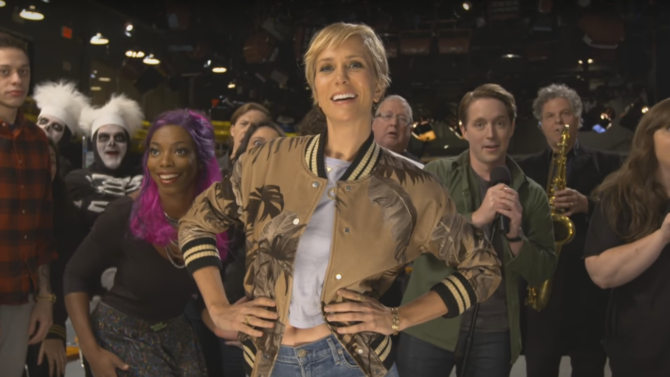 Kristen Wiig bid farewell officially from Saturday Night Live as a cast member on May 19, 2012, but she hasn't been able to stay away from Studio 8H at 30 Rock. Saturday night, Wiig returns to host the show again with musical guests The XX starting at 11:30pm on NBC.
The network has released a couple of promotional videos in support of her appearance including one of the SNL cast partaking in the latest video trend, "The Mannequin Challenge." It was almost a perfect attempt until comedian Leslie Jones swoops in at the end wondering why everyone was still standing still. The second promo brings attention to Wiig's freshly cut blond pixie as she pretends to give Aidy Bryant a similar look with a regular pair of shears.
Saturday's episode will be bringing together 3 out of 4 stars from the all-female Ghostbusters reboot: Wiig, Jones, and Kate McKinnon. Could they ask Bryant or someone else to fill in for Melissa McCarthy's role for a fun skit based on the film?
One character she can bring back all on her own is silly schoolgirl Gilly that most people love to hate. The mysterious young lady is constantly pulling pranks while interrupting class. The pranks get worse as the class goes on and all she can do is put on a silly face and share an insincere apology. Classic!
Check out the promo videos below: