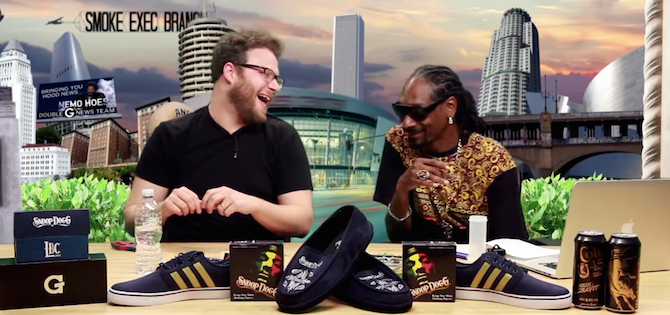 Es sabido que a Seth Rogen le gusta relajarse un rato y "fumar" y ahora encontró un compañero para compartir su pasatiempo, nada más ni nada menos que el rapero Snoop Dogg.
Aunque no sabemos si en el video de verdad fuman marihuana, aparecen compartiendo un cigarro y comentado de una manera muy divertida la última temporada de "Game of Thrones".
¿Qué tal?
El video comienza con alguien preguntándole a la estrella de "Neighbors" si había visto "Game of Thrones" la semana pasada, y ahí el rapero lo interrumpe y comienza a contar el capítulo con su particular modo de hablar, mientras comparten este "cigarro".
"Deberíamos hacer una revisión de Game of Thrones todos las semanas", comenta Rogen entre risas.
VER TAMBIÉN: 'Game of Thrones': La boda púrpura encendió las redes
Luego ven una escena del último capítulo ATENCIÓN SPOILERS si no viste el útimo capítulo no sigas leyendo. d
El clip que ven es donde Petyr 'Littlefinger' Baelish empuja por el pozo a Lysa Arryn (Kate Dickie), entonces ponen la música de la canción de Ludacris "Move, Bi**h" y Snoop Dogg canta la canción, con ambos muertos de la risa.
Hacia el final discuten si participarián en una serie como "Game of Thrones" y ambos dicen que sí ¿Por qué no? dice Rogen y el rapero contesta: "Me gustaría ser un mother**cker rey o algo así".
El video ha tenido miles de visitas, si no lo has visto aún acá te lo dejamos.
¿Qué te parece?