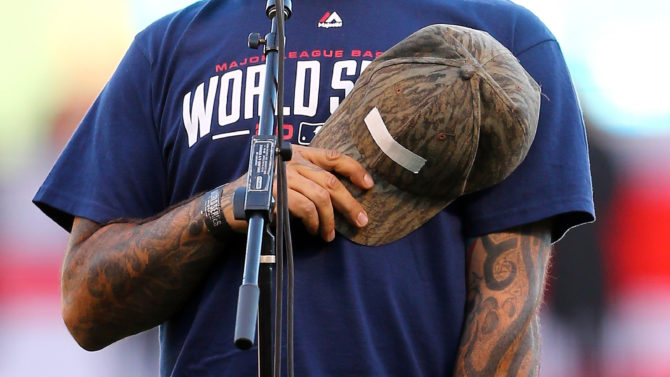 Los nervios se apropiaron del cantante de música country Aaron Lewis durante el quinto juego de la Serie Mundial de beisbol este 26 de octubre.
Durante su interpretación del himno nacional "The Star-Spangled Banner", Lewis hizo una pequeña modificación a la letra, de la que todo el mundo ha estado hablando desde entonces.
En la primera estrofa del himno, luego de cantar "O say can you see by the dawn's early light, what so proudly we hailed", Lewis olvidó cantar "at the twilight's last gleaming" y en vez de eso interpretó "were so gallantly streaming", verso que aparece posteriormente en el himno nacional.
Por supuesto que después del incidente el cantante ha estado mortificado por lo sucedido, por lo que emitió una declaración pública disculpándose por el incidente, donde culpó a los nervios por lo ocurrido.
"Todo lo que puedo decir es que lo siento y pido por el perdón de la nación. Mis nervios tomaron lo mejor de mí y estoy completamente devastado por lo que pasó", indicó el cantante en su comunicado. "Espero que todo el mundo pueda entender la intensidad de la situación y mi verdadera intención en esta presentación. Espero que la nación, la Liga de Mayores de Beisbol y los fanáticos de nuestro pasatiempo nacional puedan perdonarme".
El cantante incluso envió un tuit con su disculpa.
Pobre Aaron, por nuestra parte lo perdonamos, pero no sin antes dejarles el video de su comentado error.