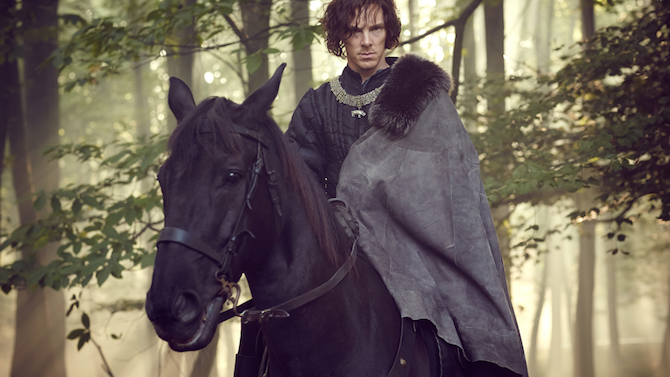 Atentos fanáticos de Benedict Cumberbatch, porque llegó la primera foto del guapo actor en la serie inglesa "The Hollow Crown: The Wars of the Roses."
En la serie, el actor de "Sherlock" hará el papel de Richard III, mientras que la actriz Judi Dench será Cecily la Duquesa de York y Sophie Okonedo será la Reina Margaret.
VER TAMBIÉN: Benedict Cumberbatch sobre 'Sherlock': "Me gustaría envejecer con el personaje"
La serie cuenta la historia adaptada de la obra de William Shakespeare y su primera temporada fue estrenada en 2012 donde también vimos a otro inglés codiciado, Tom Hiddleston como el Prince Hal.
https://38.media.tumblr.com/dbb47718ef61e0cd8d3ac2ab05908f64/tumblr_n0ugmiWrkL1sm4glco3_500.gif
La serie está siendo filmada en Gran Bretaña y se transmitirá por PBS y es una continuación de la estrenada hace 2 años.
En esta serie, Cumberbatch estará junto a otra cara conocida, ya que también estará el actor Andrew Scott, quien hace el papel de Moriarty en "Sherlock."
https://38.media.tumblr.com/tumblr_m239gvwOFv1r4g30oo1_250.gif
https://31.media.tumblr.com/tumblr_m239gvwOFv1r4g30oo2_250.gif
En esta historia Scott, conocido por ser el enemigo de Sherlock hará el papel del Rey Louis.

VER TAMBIÉN: Foto de Benedict Cumberbatch como Mr. Darcy para la lucha contra el cáncer
Otros actores serán  Hugh Bonneville, conocido por su papel de "Dowton Abbey," además de Sally Hawkins, Keeley Hawes y Tom Sturridge, entre otras estrellas.
Sin embargo habrá que esperar un tiempo para ver esta serie, pues se espera que se estrene en 2016.
¿Qué te parece Benedict Cumberbatch como Richard III?