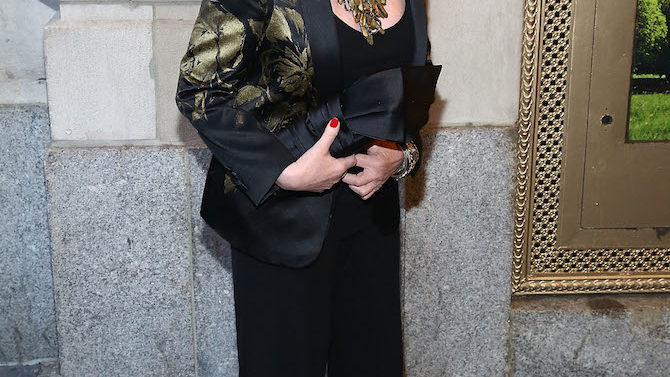 Ayer supimos la noticia de que Joan Rivers se encuentra hospitalizada en New York luego de que dejara de respirar en una cirugía.
Luego del incidente, la comediante de 81 años, fue trasladada rápidamente al Mount Sinai Hospital y fue inducida a un coma. Según los reportes médicos está estable pero en estado crítico.
La comediante tenía programado actuar en un teatro en New Jersey, hoy en la noche y el miércoles realizó una función en New Jersey.
Sin duda que su sentido del humor no conoce límites y siempre ha sabido reírse de sí misma, en el último show que realizó antes de su cirugía bromeó acerca su edad: "Ya tengo 81 años, en cualquier momento podría caer muerta, podría caer aquí mismo y todos ustedes dirían: '¡Yo estuve ahí!' ," contó uno de los asistentes al evento.
VER TAMBIÉN: Reportes: Joan Rivers en coma inducido
Su hija Melissa pidió que le mandaran fuerzas a la conductora de E! y dijo: ""Quiero agradecer a todos por el gran amor y el apoyo a mi madre. Ella está descansando cómodamente y está con nuestra familia. Queremos pedirles que la mantengan en sus pensamientos y oraciones."
Muchas estrellas de Hollywood le han mandado distintos mensajes de apoyo a la comediante.
VER TAMBIÉN: Reportes: Joan Rivers deja de respirar durante cirugía
Jason Alexander el actor conocido por "Seinfeld" dijo: "Oraciones y amor a mi compañera Joan Rivers. Nada la ha derrotado todavía. No hay tiempo para que sea ahora. Que te mejores pronto, Joanie."
Laverne Cox, de "Orange is the New Black" dijo: "Mandando un montón de amor por una recuperación rápida. ¡Te amo Joan!
"Por favor, vuelve a nosotros jovencita. Tu genio inimitable y compasión mantiene a tu mundo," dijo por su parte el ex integrante de "Two and a Half Men," Charlie Sheen.
En tanto que el animador Larry King dijo: "A mi querida amiga, Joan Rivers, te he conocido desde siempre. Te deseo sólo lo mejor, en estos tiempos de lucha.¡Vamos chica!"
"Aguanta ahí Joan Rivers. Tantos vestidos horribles van a ser usados ​​este año para que tú los comentes. Amor y oraciones.", dijo la rockera Courtney Love.
Su colega Ellen DeGeneres, en tanto dijo: "Estoy pensando en ti y te envío un montón de amor."
El también comediante que apareció en los Emmys, Billy Eichner dijo: "Estoy esperando que Joan haga un chiste de esto."
Dr Oz, dijo que estaba rezando por ella:
El actor de "Star Trek" Zachary Quinto, le mandó mucho amor y energía.
La actriz Kathy Griffin le mandó flores a través de Twitter.
La actriz de "Dynasty" Joan Collins, le mandó sus plegarias.
Su amiga Cher también le mandó mucho ánimo a través de la red social.
"Rezando por Joan", dijo por su parte Chris Rock
Esperemos que Joan Rivers se recupere pronto para que siga haciéndonos reir.