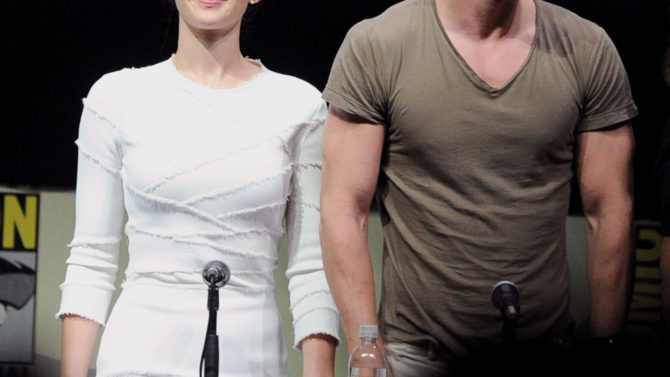 Aún no se estrena"X-Men: Days of Future Past" y ya se anunció que Jennifer Lawrence y Michael Fassbender serán dos de los actores que regresarán para la secuela, "X-Men: Apocalypse."
En una entrevista con Entertainment Weekly, el director Bryan Singer reveló que los recientemente integrados a la franquicia de X-Men regresarán en el 2016.
También dijo que "X-Men: Days of Future Past" dará algunas pistas a lo que veremos en la secuela. "La película establece posibles tramas para "Apocalypse" y serán a consecuencia de eventos que van a pasar en esta película."
VER TAMBIEN: Primer vistazo al nuevo trailer de "X-Men: Days of Future Past"
En otras palabras, tendrémos que poner mucha atención a "Days of Future Past" para entender la siguiente película.
También existe la posibilidad de que regresen otros mutantes como Gamit y Nightcrawler, quienes fueron personajes en las primeras películas de X-Men.
Lawrence, quien se unió a la familia en el 2011 con "X-Men: First Class" no sólo regresará para la secuela sino también se ha rumorado que su personaje Mystique tendrá su propio spinoff.
Estaría interesante, ¿no?
La joven actriz tendrá una agenda muy ocupada para los próximos años…
Actualmente se encuentra grabando "Mockingjay Parte 2," última película de la franquicia "The Hunger Games" y este año estrenará su película "Serena" al lado de Bradley Cooper.
VER TAMBIEN: Jennifer Lawrence baila al ritmo de Carlos Santana en escena eliminada de "American Hustle" (VIDEO)
Fassbender por su parte está por comenzar a grabar "Prometheus 2" la cual se estrenará en el 2016.
"X-Men: Days of Future Past" se estrena este verano (el 23 de mayo), al igual que muchas otras películas destinadas a ser blockbusters, como "Transformers: Age of Extinction" y "Guardians of the Galaxy."