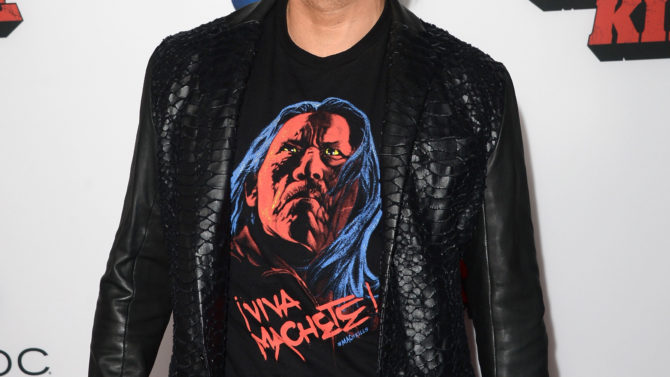 Como dice el dicho: honor a quien honor merece…
El director/escritor Robert Rodriguez será honrado con el "Star of Texas Award" en los Texas Film Awards por la película "From Dusk Till Dawn" de 1996.
El premio es presentado cada año a una cinta icónica de Texas. Previamente, se ha galardonado a películas como "Dazed and Confused," "Rio Bravo" y "The Last Picture Show."
El director, nacido en San Antonio, TX, tiene muchísimos proyectos. Debutó su cadena de cable "El Rey" en enero de este año, la cual acaba de confirmar fechas para el estreno de dos nuevas series. También anunció un pacto de publicidad con la cerveza Heineken USA. En diciembre del año pasado firmó con General Motors.
La cadena lanzará "From Dusk Till Dawn," una serie de horror/acción la cual saldrá al aire el 11 de marzo – donde veremos actores latinos como el venezolano Wilmer Valderrama y la mexicana Eiza González. La serie es basada en su obra maestra cinematográfica
Después se debutará "Matador," una serie de acción que estrenará en Julio, justo después de el Mundial 2014.
También en abril la cadena estrenará un programa llamado "El Rey Presents: The Director's Chair," una serie de diez partes con entrevistas de una hora entre Rodriguez y los directores más distinguidos en la industria. John Carpenter, director de "Vampires," será uno de los invitados
El Rey ha también ha adquirido series como "Starsky & Hutch" y "Miami Vice."
El evento donde Rodriguez será galardonado se llevará acabo el 6 de marzo y la revista Variety tendrá una conferencia de prensa exclusiva antes de los premios.
Actores como Danny Trejo y Fred Williamson, quienes formaron parte de la original "From Dusk Till Dawn," estarán acompañando a Rodriguez cuando reciba el premio.