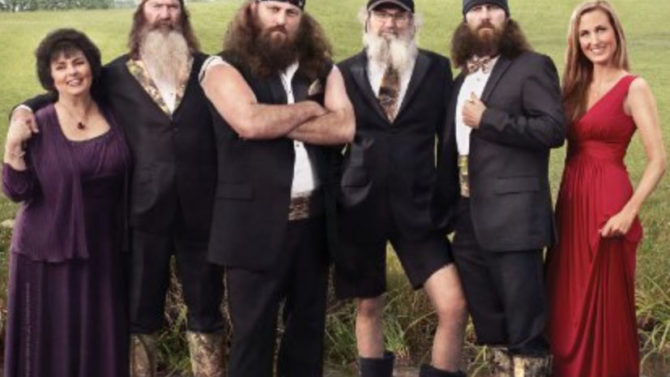 Los barbudos cazadores de patos pasarán de la televisión a las tablas.
La familia Robertson del reality "Duck Dynasty"  tendrá un musical al estilo Broadway donde se contará la historia de estos singulares personajes.
Los protagonistas de este show, están en conversaciones con ejecutivos de Broadway quienes quieren adaptar su historia para hacerla un musical. Sin embargo esta obra no llegará a la Gran Manzana si no que se presentará en el Rio Hotel and Casino de Las Vegas.
El espectáculo está siendo producido por Michael David de "Jersey Boys" y se espera que el show comience en febrero con actores que interpretarán a los miembros de la familia Robertson.
"Hemos disfrutado el proceso de hacer un musical junto con el equipo que está interesado en contar la historia de la familia Robertson desde una perspectiva exterior," dijo Willie Robertson, director ejecutivo de la empresa Duck Commander.
Recordemos que este show comenzó en 2012 y sigue la historia de una familia de Louisiana que fabrica productos de cacería para patos.
Este reality no ha estado exento de polémica, sobretodo por parte de su líder Phil Robertson, quien ha hecho comentarios homofóbicos, lo que causó la suspensión del show en una oportunidad.
Por otra parte, Sadie Robertson de 17 años quien también es miembro de esta familia, participa de  "Dancing With the Stars" y ya es toda una celebridad.
¿Estará Sadie quizás en el show?
Habrá que esperar un poco para ver qué tal resulta y quiénes interpretan a los barbudos.
¿A quiénes te gustaría ver en el escenario como los Robertson?