Jack Nicholson está de fiesta este 22 de abril ya que cumple 78 años y como nos encanta este versátil actor, lo celebramos con sus mejores frases.
1.- "Here's Johnny!" se ha convertido en una de las frases más iconicas del cine, porque sin duda que el personaje de Jack Torrance en The Shining nos aterrorizó a todos y seguimos recordando esta cinta de Stanley Kubrick, aunque ya hayan pasado 34 años desde su estreno.

2.- "You can't handle the truth!" es probablemente una de las frases más celebres del cine, por su papel como Col. Nathan R. Jessup en la película A Few Good Men, Nicholson estuvo nominado a un premio de la Academia.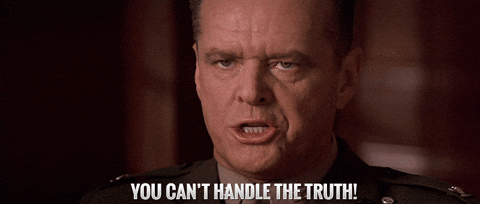 3.- "Fuck£#% rat" Más que la frase nos encantó el personaje de Nicholson como Frank Costello en The Departed, aquí lo vimos junto a grandes estrellas como Leonardo DiCaprio, Matt Damon y Mark Wahlberg en la cinta dirigida por Martin Scorsese.
4.- "You make me want to be a better man" En As Good As It Gets, Nicholson hace el papel – nuevamente- de un hombre con problemas, que sale adelante con la ayuda de su amiga, Carol, interpretada por la actriz Helen Hunt.

5- "What time does that say?" Su personaje en Something's Gotta Give junto a Diane Keaton y Keanu Reeves también nos encantó y nos enseñó que el amor no tiene edades.

6.- "I'm not proud of everithing I did, but I'm pretty sure Id do it again" Una de las últimas películas en que hemos visto a este actor, fue The Bucket List donde nos emociona y nos hace pensar en el valor de la vida junto a Morgan Freeman.

7.- "Forget it, is Chinatown" La cinta de Roman Polanski es una de las más importantes del actor, que interpreta al detective J.J. Gittes.

8.- "Get away son, you are using my oxigen" One Flew Over the Cuckoos Nest es otra de las películas donde vemos a Nicholson como un loco lindo.
9.- "I just like the sound of it" Nicholson nos regaló uno de los mejores Jokers de la historia, en Batman del director  Tim Burton


10. Y para terminar, más que una palabra, un gesto. Nicholson nos hizo reír de lo lindo volviendo loco a Adam Sandler en Anger Management
¡Feliz cumpleaños Jack!