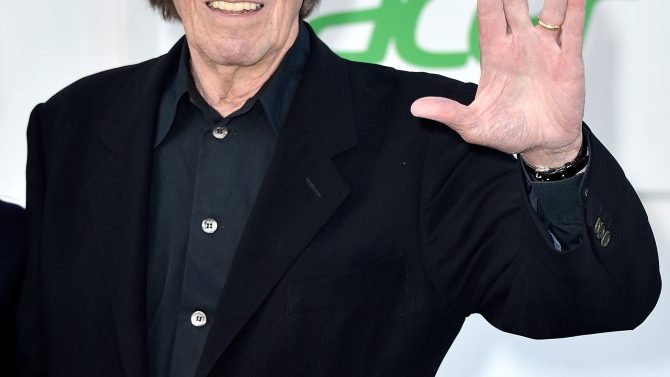 Es un día muy triste para los fanáticos de "Star Trek" ya hoy por la mañana, Leonard Nimoy, mejor conocido como Spock, falleció después de ser hospitalizado por dolores en el pecho debido a una enfermedad pulmonar. Tenía 83 años de edad.
El legendario icono de la ciencia ficción murió mientras estaba en su hogar en Bel Air rodeado de sus seres queridos. Su esposa, Susan Bay Nimoy, confirmó la noticia al The New York Times afirmando que la causa de la muerte fue la enfermedad que lo agobiaba.
El actor se convirtió en unos de los actores más reconocidos y amados a través de los años y Nimoy hizo público en 2014 que padecía de esta enfermedad, que atribuyó a sus años como fumador, vicio que había dejado hace más de 30 años.
Nimoy saltó a la fama en los años 70 con el papel de Spock en la serie original de "Star Trek" donde interpretó al personaje de raza (medio-vulcano y medio-humano) y que siempre debatía sus decisiones entre lo logico y lo razonable.
Al actor también le encantaba el arte, la poesía, la fotografía y la música, pero su reencarnación de Spock a través de los años -incluso en la última cinta "Star Trek Into The Darkness" dirigida por JJ Abrams- lo convirtió como un actor y personaje que será recordado para siempre.
Pero el actor emblemático también fue más que su personaje Spock. En 1984 empezó su carrera detrás de las cámaras dirigiendo "Star Trek III: The Search for Spock" y dirigió cinco más películas incluyendo "Star Trek IV: The Voyage Home" y "Three Men and a Baby".
El multifacético también grabó varios álbumes uno de ellos en 1968, "Mr. Spock's Music From Outer Space" y varios covers de temas como "I Walk the Link" y "Ruby, Don't Take Your Love to Town".
Tamién su amor por la poesía y la fotografía resultó en varias exhibiciones de su arte y también libros.
Ya varios famosos y fanáticos del actor han expresado su tristeza y sus condolencias a través de Twitter.
Zachary Quinto, quien también interpretó a Spock en las más recientes películas de la franquicia de "Star Trek" escribió unas palabras sobre la muerte de su amigo en su Instagram.
"Mi corazón está roto. Te amo profundamente mi querido amigo y te extrañaré todos los días. Que los ángeles te canten."
William Shatner, compañero y amigo de Nimoy y quien interpretó al Capitán Kirk durante la serie original de "Star Trek" publicó una declaración diciendo,
"Lo amé como un hermano. Todos extrañaremos su humor, su talento y su capacidad de amar."
Live Long and Prosper Spock.