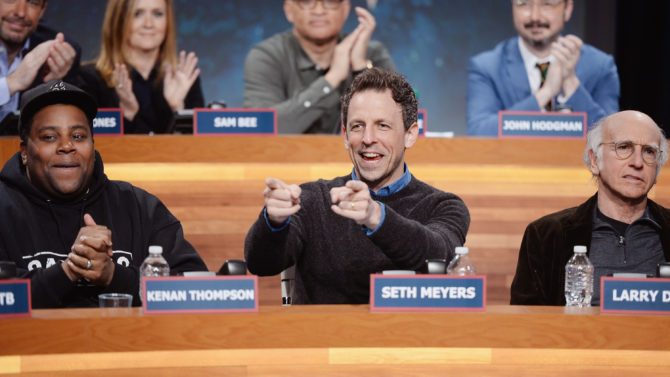 "Este evento es casi como los Oscars sin Travolta tocando caras de otras personas", dijo Jon Stewart al inicio del evento "Night of Too Many Stars" que se televisó este fin de semana. Stewart y otros comediantes como Sarah Silverman, Chris Rock, Paul Rudd, Maya Rudolph, Amy Schumer, Seth Meyers, entre muchos otros dijeron presente en este mini-teleton donde recaudaron fondos para la educación de niños con autismo.
Stewart condujo el evento anual de Comedy Central, y como era de esperarse, bromeó sobre su decisión de dejar "The Daily Show" y hasta dijo ya saber quien lo reemplazará: "El único otro lugar donde podrás ver a tantos comediantes juntos es en una lista de Internet con nombres de posibles candidatos para mi reemplazo. En el fondo realmente pienso que esa persona va a ser Benedict Cumberbatch".
Weird Al tomó el escenario vestido como un Jedi para cantar su tema "Yoda" acompañado de Jodi DiPiazza, una niña de 13 años con autismo.
Rudd también subió al escenario para ayudar a recaudar fondos donde demostró al mundo que era un "hombre del pueblo" y jugó una dinámica donde una persona le pasó de boca a boca comida masticada. Los que no fueron lo suficientemente valientes para hacer ese tipo de reto se quedaron contestando teléfonos y aceptando donaciones.
Embed from Getty Images
Embed from Getty Images

Y claro la noche no pudo terminar sin una presentación musical y el honor lo tuvo Bon Jovi cantando el tema "Wanted Dead or Alive".  Desde 2006, "Night of Too Many Stars" ha recaudado $18 millones para programas de educación para adultos y niños con autismo.