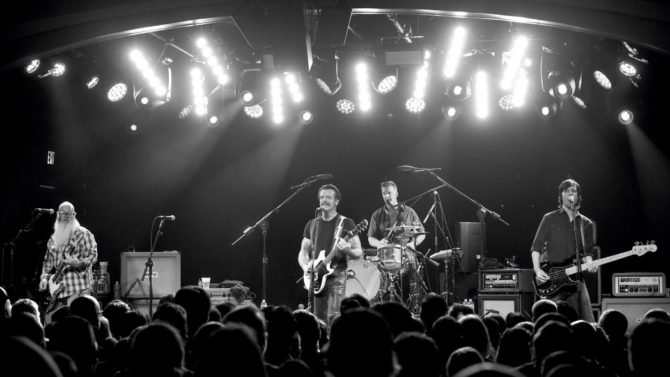 A dos semanas de los ataques terroristas ocurridos durante el concierto de Eagles of Death Metal en París, la banda habló detalladamente por primera vez sobre los fatídicos hechos de esa noche.
Jesse Hughes, vocalista de la banda; Eden Galindo, guitarrista; Matt McJukins, bajista; Julian Dorio, baterista y Shawn London, ingeniero de sonido de la agrupación, se sentaron con Shane Smith, co-fundador de Vice, para discutir los eventos ocurridos el viernes 13 de noviembre. Josh Homme, miembro fundador de esta banda, no estaba presente en el famoso recinto Le Bataclan esa noche pero estuvo presente en la entrevista.
"El poder del sonido de la banda a través del sistema de sonido es tan alto, y aún así los primeros disparos fueron tan poderosos para mí… Supe que algo estaba mal. Casi me caigo del taburete. Y casi inmediatamente, el olor a pólvora llegó a mi nariz", sentenció Dorio.
London detalló lo que vivió en la entrada del recinto. "Estos chicos estaban divirtiéndose. Riendo, bailando, y de la nada, escuché lo que pensé que eran fuegos artificiales detrás de mí", relató el ingeniero de sonido. Josh Homme, mejor conocido por ser el vocalista de Queens of the Stone Age, relató lo que sintió cuando escuchó sobre los atentados.
El vocalista de esta banda aseguró que quiere ser la primera agrupación que toque en Le Bataclan cuando vuelva a abrir. Nuestros amigos fueron a ver rock and roll y murieron. Yo quiero regresar y vivir", sentenció Hughes.
Aquí puedes ver la entrevista completa de Eagles of Death Metal: