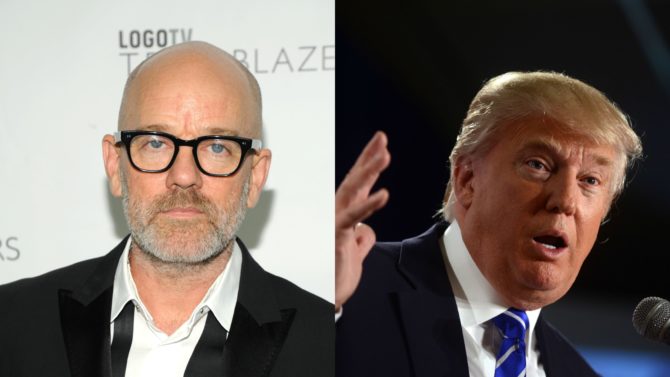 La mítica banda R.E.M. se suma a la lista de gente enfadada con Donald Trump. ¿La razón? El uso sin permiso de la canción "It's the End of the World as We Know It (And I Feel Fine)" de los rockeros por parte del candidato presidencial en un discurso que se llevó a cabo en Washington D.C.
"El Payaso Naranja hará cualquier cosa por llamar la atención. Odio tener que dársela", señaló Mike Mills, bajista de la agrupación, en Twitter:
"Vayanse a la m¡¿"#da, ustedes son unos tristes hombres hambrientos de poder". Estas fueron las palabras que al parecer Michael Stipe, vocalista de R.E.M, le dedicó al magnate y a Ted Cruz -otro de los candidatos del partido Republicano- a través de un correo electrónico que envió a The Daily Best donde agregó que le advierte al millonario que se mantenga alejado de su música y de su voz para darle alas a su "estúpida campaña".
La banda publicó un escrito en Facebook donde oficializó su descontento hacia este hecho:
Trump llegó a Washington D.C. el 9 de septiembre. En este discurso el ex animador de The Apprentice criticó -entre otras cosas- el acuerdo nuclear entre Estados Unidos e Irán.
Si te vas al segundo 0:36 del video que ves a continuación podrás escuchar la famosa canción de la banda que curiosamente suena al mismo tiempo que Trump sube al podio.