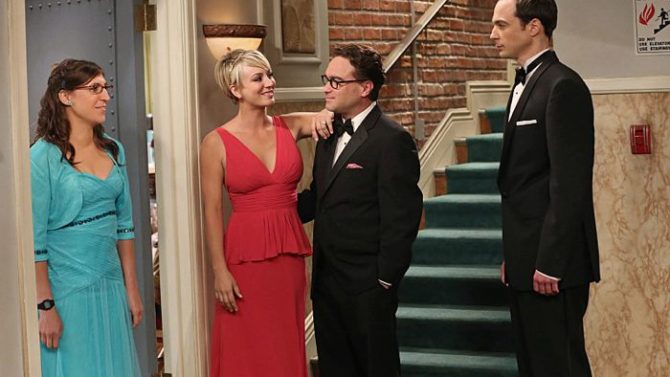 Entertainment Weekly reportó hoy que la nueva temporada de la popular serie de comedia The Big Bang Theory incluirá una boda entre dos de los personajes principales. Este nuevo giro en la trama se aprecia en el primer vistazo de lo que será la novena temporada de este divertido show.
Buscando contraer nupcias, Leonard (Johnny Galecki) y Penny (Kaley Cuoco-Sweeting) deciden viajar a Las Vegas, Nevada. Al parecer el amor entre esta pareja dispareja sigue fuerte a pesar de que Leonard no fuera del todo fiel al besar a otra chica en un viaje, tal como vimos en la temporada pasada. Seguramente muchas otras peripecias tendrán que pasar para que los enamorados logren materializar su unión, y eso significa muchos momentos divertidos por venir.
"La serie seguirá adelante en grande y valientemente justo como lo harán Leonard y Penny", dijo el productor ejecutivo del show, Steve Molaro. De acuerdo con Molaro, Penny cree que a pesar de los retos que ha enfrentado la relación, aún pueden salvarla. "Ella sabe que han estados juntos por mucho tiempo y se dice a sí misma que el hecho pasó hace años, no estaban casados y solo fueron besos; puedo olvidar esto. Sigamos adelante". Al menos eso es lo que el productor cree que Penny piensa al respecto del incidente con Leonard. Solamente el tiempo dirá si en realidad las cosas pueden continuar.
Molaro también mencionó que Sheldon y Amy también pasaron por momentos difíciles y asegura que a veces "las cosas se tienen que poner peor antes de que puedan mejorar", comentó en relación a la otra pareja principal de este show.
La nueva temporada de The Big Bang Theory llegará a CBS el 21 de septiembre.