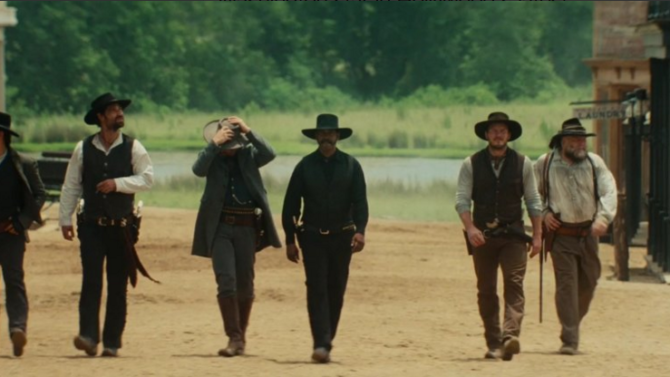 Yeehah! Este miércoles hizo su debut el explosivo tráiler de The Magnificent Seven. La pregunta es, ¿vienen en busca de justicia, o de venganza?
El remake de este western está protagonizado por Denzel Washington, en el papel del cazarrecompensas Sam Chisholm. A su pandilla se une Chris Pratt, quien interpreta a un apostador llamado Josh Farraday, y el actor Ethan Hawke como un veterano de la guerra civil.
La historia de The Magnificent Seven transcurre en la ciudad de Rose Creek, que es controlada por el malvado Bartolomé Bogue, papel de villano que interpreta Peter Sarsgaard. Los habitantes del pueblo deciden poner fin a su desgracia contratando a siete hombres para que tomen la justicia en sus manos.
El resto de los pistoleros que luchan en la cinta están interpretados por Vincent D'Onofrio, Byung-Hun Lee, Manuel García-Rulfo y Martin Sensmeier. Ellos son los encargados de combatir la maldad.
En esta nueva versión dirigida por Antoine Fuqua, el fuego cruzado, las armas y los bigotes son algunos de los componente claves de esta cinta inspirada en el clásico de John Sturges que a su vez se basó en la película de 1954, Seven Samurai, de Akira Kurosawa.
El 23 de septiembre podrás unirte a misión de The Magnificent Seven.