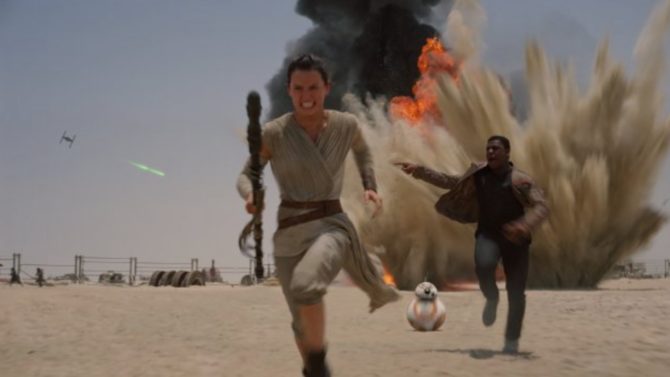 Star Wars: The Force Awakens sigue siendo la película más popular en cines luego de tres semanas de exhibición. El filme se apoderó nuevamente de la taquilla este fin de semana recaudando $88.3 millones de dólares.
La séptima entrega de la franquicia sigue rompiendo récords y hasta la fecha ha ganado más de $740 millones de dólares en Estados Unidos. A nivel internacional, la cinta dirigida por J.J. Abrams ha recaudado $1.31 billones de dólares.
La exitosa producción cuenta con el regreso de algunos de los protagonistas de la trilogía original como Harrison Ford y Carrie Fisher. A ellos los acompañan nuevos y talentosos rostros como John Boyega, Adam Driver, Daisy Ridley, Lupita Nyong'o y Oscar Isaac. Estos dos últimos actores nos contaron en exclusiva cómo se siente formar parte de esta galaxia muy muy lejana:
En segundo lugar se encuentra Daddy's Home, cinta protagonizada por Mark Wahlberg y Will Ferrell. En su segundo fin de semana la comedia recaudó $29 millones de dólares. The Hateful Eight, dirigida por Quentin Tarantino, se llevó $16.2 millones de dólares quedando en la tercera posición del conteo.
Sisters de Amy Poehler y Tina Fey hizo $12.6 millones mientras que Alvin and the Chipmunks: Road Chip quedó en el quinto lugar con $11.8 millones de dólares.
¿Cuál de estas películas viste el fin de semana?