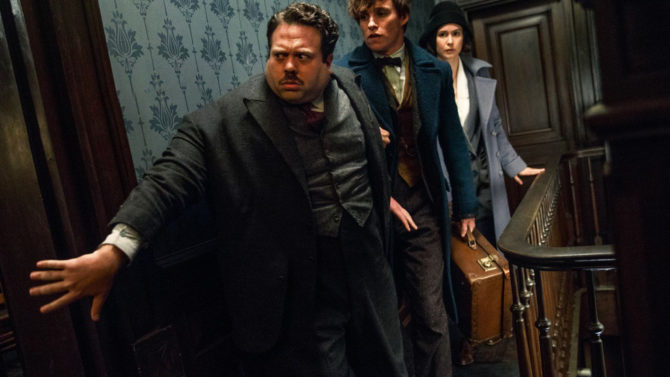 Como se había pronosticado, Fantastic Beasts and Where to Find Them dominó la taquilla en su fin de semana de estreno, aunque con acumulados menores a los que se esperaban. La cinta que inicia una nueva franquicia en el universo de Harry Potter recaudó a nivel nacional 75 millones de dólares en tres días, informó BoxOffice Mojo.
VER TAMBIÉN 'Fantastic Beasts and Where to Find Them' es magia de antaño
La cifra, mucho menor a los 90 millones que habían pronosticado publicaciones conocedoras, deja a la cinta en el último lugar de las películas basadas en los libros de J.K. Rowling que más dinero han obtenido en taquilla durante su estreno, aunque no muy lejos de Harry Potter and the Order of the Phoenix, que debutó en el año 2007 con 77.1 millones de dólares, y Harry Potter and the Half-Blood Prince, que acumuló durante su estreno en el 2009 $77.8 millones.
A nivel internacional el filme ha probado ser un éxito, ya que desde su estreno el pasado miércoles 16 de noviembre ha obtenido ganancias de 143.3 millones de dólares, para acumulados a nivel mundial de 218.3 millones de dólares, una cifra mucho superior a su presupuesto de 180 millones.
VER TAMBIÉN Premiere de 'Fantastic Beasts and Where To Find Them' [FOTOS]
El segundo lugar en la taquilla del fin de semana fue para Doctor Strange, que en su tercera semana en cartelera obtuvo 17.67 millones de dólares, seguida muy de cerca por la cinta animada Trolls, que recaudó 17.5 millones. Con estas nuevas cifras, el largometraje basado en el superhéroe de Marvel ya superó el medió billón de dólares a nivel mundial, a menos de un mes de su estreno en las salas de cine.
El top cinco de esta semana lo completan la película de ciencia ficción Arrival, que obtuvo 11.8 millones de dólares y la cinta navideña Almost Christmas, que acumuló 7 millones de dólares.