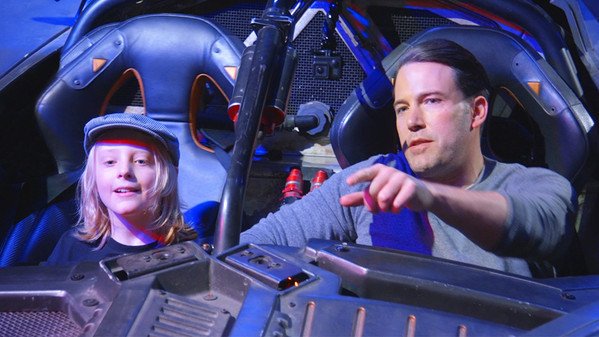 Ben Affleck sorprendió a un grupo de fanáticos que estaban en un tour de Warner Bros. en Hollywood por una buena causa. El actor, quien interpretará a Batman en Batman v Superman: Dawn of Justice, se unió a la organización benéfica Omaze para así poder recaudar fondos en sus distintas organizaciones.
En un video que compartió en sus redes sociales Affleck se escondió dentro del Batimóvil que está en exhibición en el famoso estudio de cine. Cuando el guía le pregunta a la gente cuál de los dos superhéroes creen que será el ganador de la batalla, muchos dijeron que Superman. En ese momento el actor abrió la puerta del famoso vehículo y dice, "¿por qué Superman?".
Varios fanáticos se emocionaron al ver al galán y una señora hasta le preguntó si era realmente Ben Affleck. El ex de Jennifer Garner también subió a varios niños al coche, dándoles una experiencia que seguro nunca olvidarán.
Con este video el superhéroe te invita a donar $10 a Omaze. Con esta pequeña contribución entras en un concurso donde podrías ganar la oportunidad de subirte al Batimovíl con él, un viaje en helicóptero con Henry Cavill, Superman en el filme, una foto con Affleck en el estreno de la película y muchas cosas más. Los fondos recaudados serán compartidos entre la fundación Eastern Congo Initiative, The SEED Project, nominado por Jesse Eisenberg, y Durrell Wildlife Conservation Trust, elegida por Cavill.
Batman v Superman: Dawn of Justice sale en cines el 25 de marzo. ¡Marca tu calendario!